Coleman's acts of kindness, large and small, earn her December employee of month honors for GTCC
Published on: December 15, 2021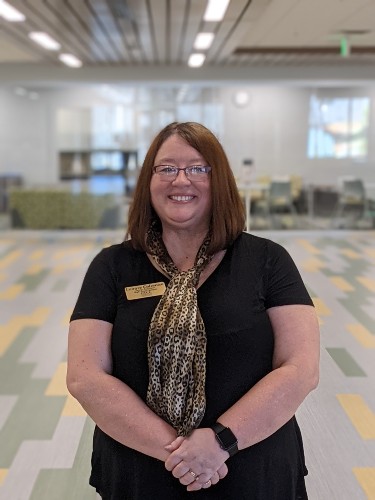 December 2021 GTCC Employee of the Month Lenore Coleman
Lenore Coleman is a big believer in small acts of kindness. Her impact on Guilford Technical Community College is the exact opposite of small, even though everything she does is touched by kindness.
For her many contributions to the college and its community, Coleman, administrative assistant, High Point Dean's Office, has been named GTCC's employee of the month for December.
Some may recall Coleman as the lady who handed out candy on the High Point campus with positive notes attached. That small deed captures Coleman's outlook on life. But her impact is much larger, so much larger than that.
According to her nominator, Coleman was a team leader during the work-from-home days of COVID, keeping everyone in the "know." She coordinated weekly meetings for the High Point Campus Dean's team to keep communications flowing and to boost spirits. When it was time to return to campus, she helped coordinate a safe transition back to offices.
When the High Point Campus dean recently retired, Coleman stepped in to assist students, faculty, and staff.
Coleman makes life much easier for team members, her nominator said, by doing simple things to keep work running smoothly, like typing step-by-step instructions for equipment used in the office.
It is communication skills and a pleasant, caring attitude that are hallmarks of Coleman. For example, her nominator shared a recent exchange when she asked a custodian if they were aware of the COVID incentive for students and employees. The answer? "Yes, Mrs. Lenore helped us get the Real Vaccination ID for the $500 and assisted us with the insurance benefits enrollment."
She is equally helpful with students by aiding them in any way necessary, like walking them to the class location when they ask for directions and making copies of important documents to help them get registered for classes.
"She is everyone's go-to person," said her nominator. "One of our faculty members describers her as the 'heart of High Point Campus'."
Back to All Articles