Finalist - Dr. Paul Broadie II, Ph.D.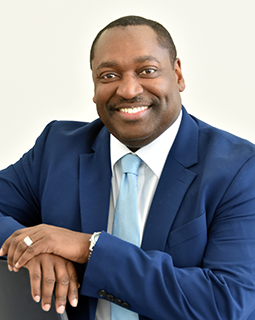 Paul Broadie II, Ph.D. is President of Gateway Community College and Housatonic Community College. He is among the first in Connecticut selected to simultaneously preside over two of the state's independently accredited public colleges. He was initially appointed president of Housatonic Community College (HCC) in Bridgeport, and in 2017 the Connecticut Board of Regents for Higher Education expanded his duties when they appointed him president of Gateway Community College (GCC) in New Haven as well. GCC is the largest community college in the state and HCC is the fifth largest.
Over the past twenty-eight years, President Broadie's leadership in higher education has been defined by the expansion of academic programs, student services, innovative technology, community partnerships and campus expansions to promote access, optimal student service and innovative instructional environments. Under his leadership, Housatonic Community College recently completed the construction of a $40 million, 46,000-square-foot addition primarily focused on innovative renovations of the library and tutorial services, as well as the academic expansion of the areas of Science, Technology, Engineering, Art, and Math (STEAM). HCC has been selected as one of the top 150 community colleges in the nation by the Aspen Institute, for excellence, high achievement, and performance in America's community colleges. He also successfully partnered with the Workforce Alliance to introduce the Skill-Up for Manufacturing program that prepares unemployed and underemployed individuals to train and fill in-demand positions in manufacturing.
Dr. Broadie holds a Ph.D. from Colorado State University, an M.B.A. from Long Island University and a B.S. in Business Administration from Mercy College.
Dr. Broadie is a devoted husband of 27 years to his wife Inmaculada; a devoted father and grandfather to son Paul (26), Paula (25) and Stacey (19); and to granddaughters Alyviana (4) and Symphony (2 months old).