From:George Ragsdale, Chair, GTCC Board of Trustees
Jarvis Harris, Chair, GTCC Presidential Selection Committee, and Trustee
Date:August 7, 2019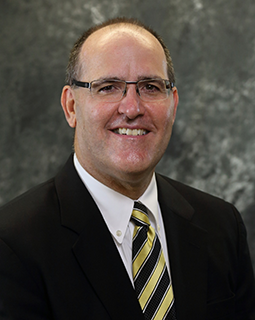 Following a very successful Presidential search, we are delighted to announce that today the GTCC Board of Trustees unanimously elected Dr. Anthony J. Clarke as the eighth president of Guilford Technical Community College, pending final approval by the N.C. State Board of Community Colleges.  
Dr. Clarke has nearly 15 years of experience in community colleges and has held faculty, administrative, and senior leadership roles at institutions in North Carolina and Kentucky.  Dr. Clarke currently serves as president of Southeastern Community College (SCC) in Whiteville, North Carolina, a position he has held since 2014.   
The Board could not be more excited about this appointment.  Dr. Clarke brings the highest level of expertise from his work within the N.C. Community College System and his work in private industry.  We are confident that he is a dynamic leader for the future of GTCC, and we look forward to introducing Dr. Clarke to our community partners throughout the region.  
Dr. Gordon Burns, Jr. will continue to serve as Interim President until Dr. Clarke begins on or before November 1, 2019.   I am sure that you will join me in congratulating and welcoming Dr. Clarke at this very exciting time for GTCC.   The attached press release details Dr. Clarke's experience and background, and his personal message to the College community will be sent to you in a separate email.  
On behalf of the Board, thank you to all who participated in the selection process – the Presidential Selection Committee, the faculty, staff, and students who participated in the Presidential Profile and Finalists Forums surveys, and the many members of the community who shared their vision for the future of our College.  Your input was vital to the Board's decision and we are grateful for your commitment to this most important appointment of our next President and for your dedication every day to the mission of GTCC.
A personal message from Dr. Anthony Clarke
Sent on behalf of Dr. Anthony Clarke to all GTCC employees, GTCC Board of Trustees, and Foundation Board of Trustees:
I am deeply honored to have this opportunity to serve as the eighth president of Guilford Technical Community College. The skills and experience I've developed in military, industry, and community college leadership positions have prepared me to serve as your next president. I will work hard to lead the talented team at GTCC and contribute to the educational attainment and economic development of Guilford County both now and into the future.
I want to thank the GTCC Board of Trustees, as well as the college's faculty and staff for the trust you've placed in me. We have great opportunities in front of us. I'm excited to join the GTCC family and build on the college's legacy of exceptional service to Guilford County.  
My wife, Margaret, and I look forward to moving to Guilford County, meeting you, and exploring all the wonderful attractions that Guilford County has to offer.
Go Titans!   
Dr. Anthony Clarke