GTCC Students Receive Medals At National Skills Conference
Published on: June 12, 2017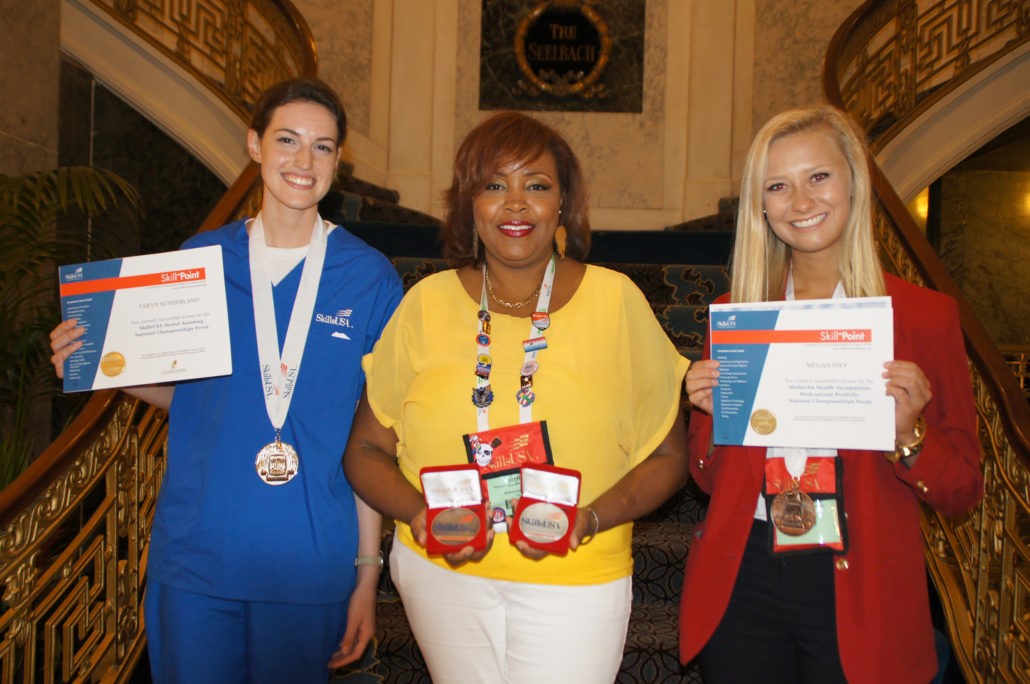 Taryn Sunderland (left), Nita Little (advisor, center), Megan Ivey (right).
Guilford Technical Community College claimed four national medals at the 53rd Annual SkillsUSA National Leadership and Skills Conference, where more than 6,200 students from various schools across the nation competed in hands-on skill and leadership competitions.
Alex Milliken of Trinity received a gold medal in Aviation Maintenance Technology;
Taryn Sunderland of Burlington received a silver medal in Dental Assisting;
Megan Ivey of Franklinville received a bronze medal in Health Occupations Professional Portfolio (Dental Assisting);
Morgan Key of Greensboro received a bronze medal in CNC Turning.
In addition, three students placed in the top seven in their respective contests.
Sergio Carrizoza received 4thplace in Collision Repair Technology;
Rebecca Conrad received 6thplace in Cosmetology;
Tuyen Nguyen received 7thplace in Restaurant Service.
Thirteen GTCC students attended the competition on June 19-23 in Louisville, Ky. and contributed to a total of 67 medals won by North Carolina competitors, helping the state to achieve the third highest medal count in the national competition and second highest in gold medals with 30.
SkillsUSA is a national organization serving teachers and high school and college students who are preparing for careers in technical, skilled and service occupations.
Through its local, state and national competitions, students demonstrate occupational and leadership skills. For more information, visit http://www.skillsusa.org.
Guilford Technical Community College is the fourth largest of 58 institutions in the NC Community College System. GTCC serves more than 40,000 students annually from five campuses and a Small Business Center. Learn more at www.gtcc.edu.
###
Back to All Articles