GTCC welcomes Dr. Anthony Clarke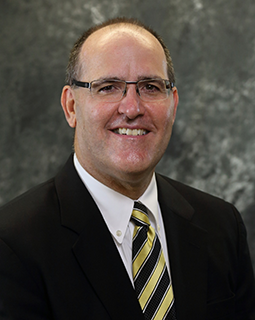 Dr. Anthony J. Clarke (Tony) became the eighth president of Guilford Technical Community College on Oct. 16, 2019. He was voted unanimously by the GTCC Board of Trustees to lead the college following the retirement of Dr. Randy Parker in July 2019.  "Dr. Clarke brings the highest level of expertise from his work within the N.C. Community College System and his work in private industry," said Board Chair George Ragsdale.  "We are confident that he is a dynamic leader for the future of GTCC, and we look forward to introducing Dr. Clarke to our community partners throughout the region."
Before coming to GTCC, Dr. Clarke served as president of Southeastern Community College in Whiteville, N.C., from 2014-2019, and vice president of instruction and chief academic officer at Richmond Community College in Hamlet, N.C., from 2012-2014. He began his community college career in 2005 at Gateway Community and Technical College in Florence, Ky., where he held both faculty and administrative roles.
A graduate of the United States Military Academy at West Point, Dr. Clarke spent two decades working in various industries in the private sector. He worked as a production engineer for General Mills, a consulting manager for Arthur Andersen, and a quality leader and six sigma black belt at GE Aircraft Engines.
A New York native, Dr. Clarke earned a bachelor's degree at the United States Military Academy at West Point where he majored in general engineering and military studies. He obtained a Master of Business Administration in Business Policy from the University of Chicago, and a Master of Arts in Higher Education Administration from the University of Louisville. He holds a doctorate of Philosophy in Organizational Behavior from the Union Institute & University in Cincinnati.
"The skills and experience I've developed in military, industry, and community college leadership positions have prepared me to serve," said Dr. Clarke. "I will work hard to lead the talented team at GTCC and contribute to the educational attainment and economic development of Guilford County both now and into the future."
Dr. Clarke and his wife, Margaret, live in Jamestown. They have a son, Tony Jr., daughter-in-law, Elisa, grandson, James, and granddaughter, Autumn, who reside in northern Kentucky.      
GTCC is the fourth largest community college in North Carolina and serves over 34,000 students annually and is recognized nationally for its work in student success and economic and workforce development.
Kathy Fair

Strategic Projects Coordinator for the President



Maria Colozzi
Executive Administrative Assistant

Financial Audits

Management Manual
College Administration
GTCC's team of college administrators work closely with the President to insure the college is providing the best possible academic and support services for all students.
Dr. Beth Pitonzo
Senior Vice President of Instruction


Nancy Sollosi
Vice President of Business & Finance/CFO
Chief Title IX Officer


Mitch Johnson
Vice President of Operations and Facilities


Kirby Moore
Vice President of Student Services, Interim


Dr. Manuel Dudley
Vice President of Workforce & Continuing Education


Cheryl Bryant-Shanks

Associate Vice President / Chief Human Resources Officer


Title IX Coordinator – Employees


Angela Carter
Associate Vice President of Business & Finance / Controller


Dr. Chris Chafin
Associate Vice President of Student Services, Interim

Title IX Coordinator - Students, Interim
Ron Horn

Associate Vice President / Chief Information Officer
Jan Knox
Associate Vice President, Marketing, Communications, and the GTCC Foundation


Shelia May
Associate Vice President of Instruction


Ed Bowling
Executive Director of Completion and Performance


Dr. Jacqueline Greenlee
Director of Organizational Development