Guilford Technical Community College Launches Furniture Sewing Class
Published on: August 14, 2017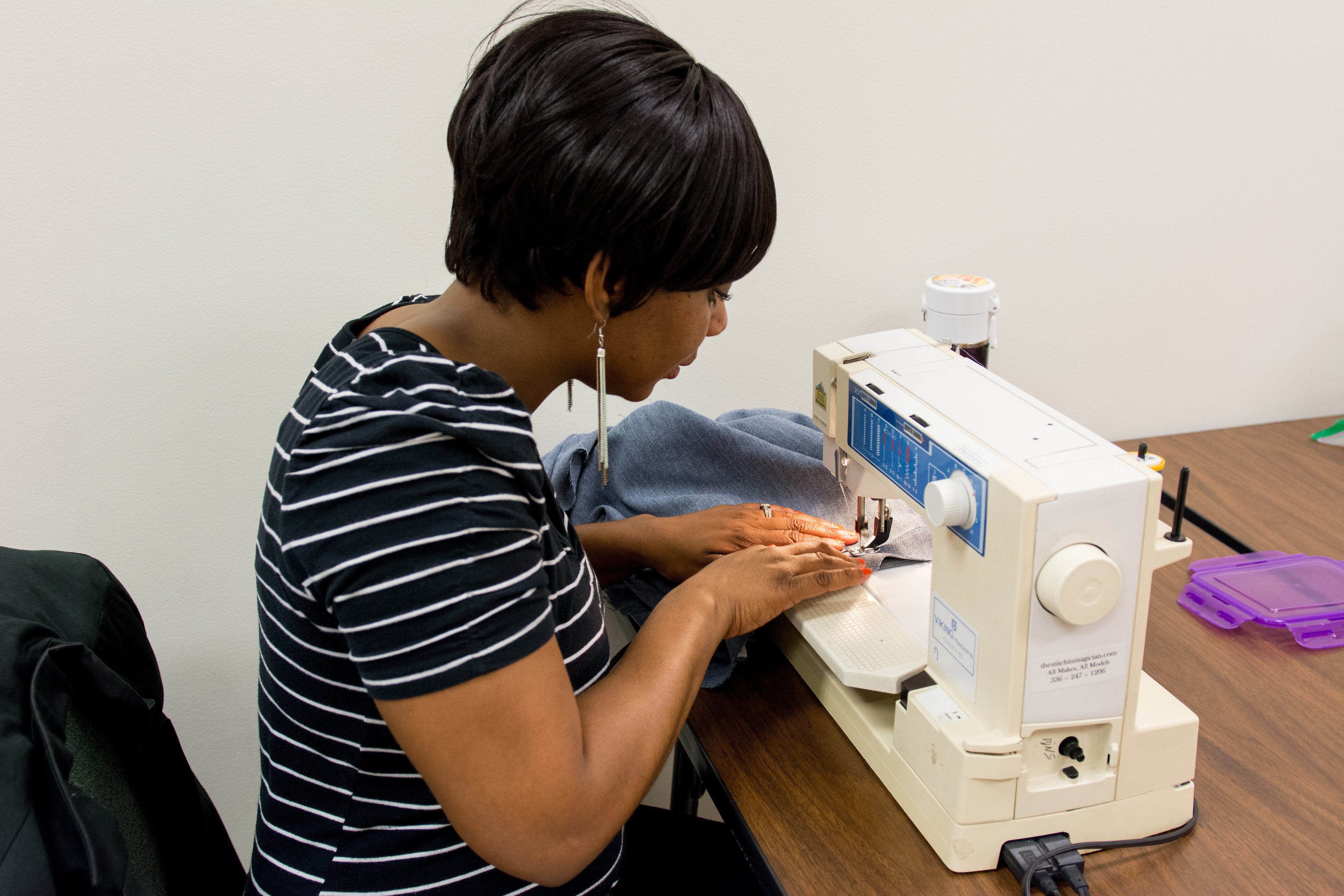 Guilford Technical Community College is partnering with nearly two dozen local furniture companies throughout the Piedmont Triad to launch its first Furniture Sewing Class. Students enrolled will learn the skills needed to sew upholstered furniture and operate a standard industrial sewing machine.
"This class marks the first step of a pilot program with these furniture companies that we hope will continue to grow in the future," explains Steve Castelloe, Director of Business & Industry Training at GTCC. "These companies are in need of sewing operators and upholsters, and we want to help them fill those positions."
"The largest challenge in the furniture industry today, is not the threat of foreign competition, but the lack of skilled labor to fill the jobs that we do have," said Andy Greene, Vice President of Swaim, Inc. "At Swaim, we realized that we had to be an advocate not just for Swaim, but for the industry as a whole. When the talent pool is shallow, it creates a company verses company mentality where no one is a winner. By partnering with NC Furniture Institute & Boss Design (NCFI) and GTCC, we've developed a program that will broaden the skilled workforce and give companies like Swaim valuable employees in the future."
Furniture Sewing Level 1 introduces skills needed to sew upholstered furniture and covers operation of standard industrial sewing machines. Topics include machine operation, safety, terminology, adjustments and maintenance, threading, and sewing straight lines, corners, curves, and welts.
"When students complete the class, it puts them in an entry-level category to be considered for jobs in the furniture industry," Castelloe says. "One of the best features of the program is that the employers are very involved. They will be visiting the classes and recruiting students once they graduate. Successful completion of the class will make someone a valuable employee."
Companies involved in developing the curriculum for the class include:
Swaim Furniture

Boss Design

Sedgewick

High Point Furniture

KI

Southfield

Klaussner

Carsons

DARRAN

Verellen

Domenick Design

Davis Furniture

Woodmark Furniture

Lancaster Custom Works

Theodore Alexander

Jessica Charles

Tomlinson

Haily Furniture
"Furniture upholstery jobs will continue to stay in the U.S. and will be in high demand for years to come," says Doug Jermyn, Vice President of Operations for Theodore Alexander. "These jobs will continue to be a thriving part of our local economy, and this partnership will further strengthen that."
"GTCC is continually working with local businesses to strengthen our workforce with the skills they need to succeed," Castelloe says. "The average starting wage for sewing in the furniture industry is approximately $9.50-11.50/hour. Average wages with experience is closer to the $13-14/hour range."
The initial class will have 12 students, and begins August 14 at the High Point Campus, 901 S. Main Street.
For more information, contact Steve Castelloe, Director – Business & Industry Training, at srcastelloe@gtcc.edu or by calling 336-334-4822 ext 57002.
About Guilford Technical Community College:
Guilford Technical Community College (GTCC) is the fourth largest of the state's 58 community colleges, serving more than 35,000 students annually through its six campuses. This includes the main location at Jamestown and additional locations in Greensboro, High Point and Colfax. In addition, the Aviation Campus in Greensboro comprises three specialized aviation centers, and the College operates two small business centers. GTCC is committed to providing access to lifelong learning opportunities for personal growth, workforce productivity, and community service. GTCC proudly serves all the diverse segments of Guilford County's population, delivering quality educational programs and services, through partnerships with businesses, community groups, and other educational institutions. GTCC boasts a comprehensive educational program including 93 degrees, 25 diplomas, and 74 certificates from approximately 90 unique programs. Learn more at www.gtcc.edu.
Back to All Articles