GTCC Cline Observatory Marks 20th Anniversary
Published on: October 25, 2017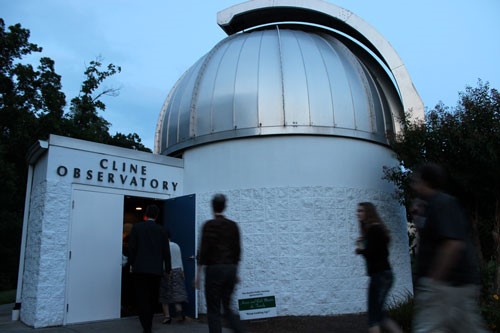 The Cline Observatory at Guilford Technical Community College will commemorate its 20thanniversary on Friday, Oct. 27. GTCC will hold a special presentation of the observatory's history as part of its weekly Friday viewing beginning at 6:30 p.m. The event is free and open to the public.
Since opening in 1997, the Cline Observatory has offered public observing nights every clear Friday night. Every session is free, no reservations or ticket required.
"It is a service we have offered free to the public for two decades," said Tom English, director of the Cline Observatory at GTCC. "Our sessions are unstructured; there is no program – just telescopic viewing and observing the heavens."
Aaron Martin, GTCC's first full-time astronomy instructor, initiated the project. He came to GTCC in 1990 with a bold vision: to fund and construct a campus observatory with a strong public outreach program. Many thought his idea was merely like the objects he was observing in the night sky – big, but not reachable in one's lifetime. Seven years later and with the support of J. Donald Cline and his wife Jo who supported building the facility, the dream became reality.
At 24 inches, the Cline Observatory's reflecting telescope is one of the largest in North Carolina, and it is the only large instrument in the state that is open to the public weekly throughout the year, weather permitting. The observatory has hosted nearly 28,000 people since opening its doors.
Event Details
Where:

GTCC Jamestown Campus
601 East Main Street
Jamestown, NC  27282

When:

Friday, Oct. 27, 2017
6:30 p.m., Science Hall 111, "A Brief History of Cline Observatory"
7:00 p.m. – 9:00 p.m., free weekly public viewing
For more information, contact Tom English, director of the Cline Observatory, at 336-334-4822 Ext. 50023.
Guilford Technical Community College is the fourth largest of 58 institutions in the North Carolina Community College System. GTCC serves more than 35,000 students annually from five campuses and a Small Business Center. Learn more at www.gtcc.edu.
###
Back to All Articles