GTCC Performing Arts Theatre to Present "Romeo and Juliet Promenade"
Published on: October 10, 2017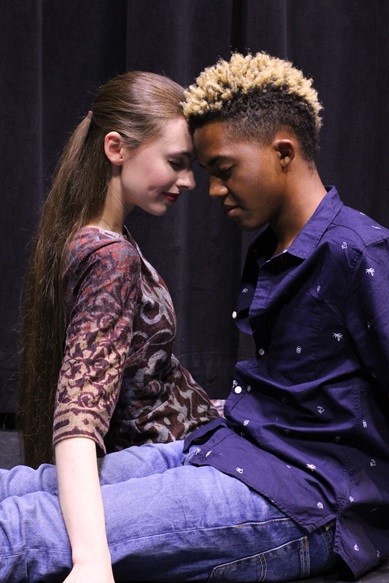 Guilford Technical Community College Performing Arts Theatre will present its fall production, "Romeo and Juliet Promenade." Set in a modern day, GTCC's interpretation of this iconic love story presents the Shakespearean classic in a promenade theatre style. Performances will be held Oct. 21–22 and Oct. 28–29 at the Center for Creative and Performing Arts on GTCC's High Point campus.
"You've read the play, you've seen the movie, but you've never experienced 'Romeo and Juliet' like this," said Meredith Stephens, director of GTCC's production. "It is a story that transcends time. It is about obstacles and how to overcome them, which remains relevant with our every day lives in 2017."
Promenade theatre is not the traditional theatregoer experience. The audience rarely sits and moves with the actors from scene to scene. The format allows the audience to intermingle with the performance and follow the focal point of the action. Stephens has a history of staging promenade site-specific Shakespeare in houses and parks with Shared Radiance Theatre.
"The promenade aspect of this performance is new to the region, and I hope it catches on. It offers a more intimate experience," said Stephens. "My goal is for the audience to feel part of the story. They will be right there with the actors, and it can inspire dialogue in every direction."
Set in a modern day GTCC's production is a fresh take on a classic story that blends Shakespeare's immortal verse with a musical backdrop of pop, folk and hip-hop. The audience will travel with the actors scene-by-scene across five performance areas on the GTCC High Point campus. The 27-member cast includes students from GTCC's theater and music programs, as well as actors from the community.
Recognized worldwide as one of the theatre's oldest and most iconic romances, "Romeo and Juliet" is the story of two young lovers determined to remain together against all odds. In a world where hate thrives and a misspoken word from the other side can lead to destruction, two enemies succumb to a star-crossed love affair. Forced to keep their relationship a secret, events spiral into murder, revenge and conspiracy, threatening to destroy both powerful families unless one side determines to end an ancient grudge through forgiveness and hope for the future.
"Romeo and Juliet Promenade" will take place at the Center for Creative and Performing Arts, GTCC High Point Campus, 901 South Main Street. Performance dates are Oct. 21-22 and Oct. 28-29. For tickets visit www.highpointtheatre.com or call 336-887-3001.
Guilford Technical Community College is the fourth largest of 58 institutions in the North Carolina Community College System. GTCC serves more than 35,000 students annually from five campuses and a Small Business Center. Learn more at www.gtcc.edu.
###
Back to All Articles