GTCC to Host Info Session for New Massage Program Feb. 23
Published on: February 16, 2017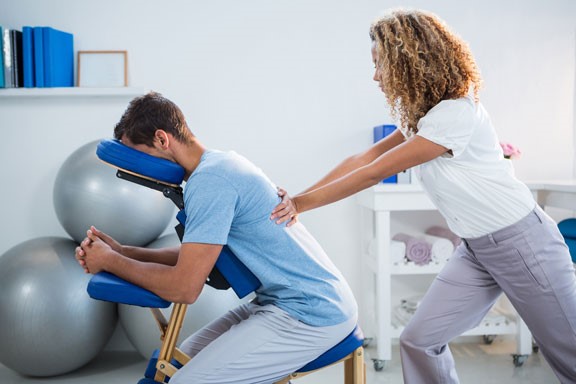 JAMESTOWN, N.C. — Guilford Technical Community College will host a general information session for its new Therapeutic Massage program 6 p.m.–7 p.m. Thursday, Feb. 23 in the Joseph S. Koury Hospitality Careers Center auditorium on the GTCC Jamestown Campus, 601 E. Main St., Jamestown. The event is free and open to the public.
The information session will provide an overview of the program, the massage industry, career prospects and admission requirements.
GTCC's Therapeutic Massage program is part of the college's Continuing Education division and is a noncredit, nine-month program; it is designed to prepare students to practice as a professional massage therapist in a variety of employment settings including hospitals, physicians' offices, spas and rehabilitation centers.
Students receive training in Swedish massage and neuromuscular techniques and are introduced to a variety of advanced therapeutic massage modalities. Upon completing the program, students also will be eligible to receive certification in Neuromuscular Therapy (NMT)™- American Version, a specific technique used to eliminate pain.
In addition, the program prepares students to take the Massage and Bodywork Licensing Exam and apply for licensure from the North Carolina Board of Massage and Bodywork Therapy. The program is expected to launch in March.
"The program is designed for those who desire an occupation that pays a living wage and provides personal fulfillment from helping others," said Dr. Ralph Soney, vice president of corporate and continuing education at GTCC. "The field of massage is not simply a relaxation industry anymore. Massage has become a viable part of the health care field with a growing number of medical benefits across a wide spectrum of the medical field. Health care practitioners can add a massage certificate to their credentials and find themselves more marketable."
U.S. News and World Report ranked massage therapy as No. 5 on their list of the Best Healthcare Support Jobs in 2017. Massage therapist employment growth is expected to rise 22 percent between 2014 and 2024, adding 36,500 more professionals to the field, according to the Bureau of Labor Statistics.
For more information, contact program coordinator Nancy Triplett at 336-334-4822, ext. ext. 55012 or nmtriplett1@gtcc.edu.
Guilford Technical Community College is the fourth largest of 58 institutions in the NC Community College System. GTCC serves more than 40,000 students annually from five campuses and a Small Business Center. Learn more at www.gtcc.edu.
###
Back to All Articles