GTCC Wins Regional Culinary Knowledge Bowl
Published on: March 14, 2017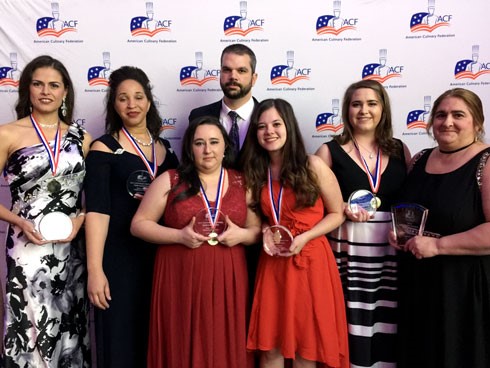 GTCC's Culinary Knowledge Bowl Team pictured from left to right: Brisa Clark, Danietta Lucas, Sydney Hester, Haley Bird, Katie Runyan, Michele Prairie (coach); back row: Patrick Sanecki (coach)
Team Advances To Nationals July 9 - July 13
JAMESTOWN, N.C. — Guilford Technical Community College's Culinary Knowledge Bowl Team claimed first place at the 2017 American Culinary Federation (ACF) Southeast Region Baron H. Galand Knowledge Bowl Championship Feb. 26–Feb. 28 in New York City. The team will go on to compete at the national level July 9–July 13 in Orlando, Fla. Student participants for this year's Knowledge Bowl include Sydney Hester (team captain), Brisa Clark, Danietta Lucas, Katie Runyan, and Haley Bird (alternate).
The Baron H. Galand Culinary Knowledge Bowl is a "Jeopardy"-style culinary competition in which teams from different schools compete against one another as they are tested on their knowledge of nutrition, safety and sanitation and the art of modern cooking. Champions of each regional Knowledge Bowl move on to compete in a double-elimination championship at the ACF National Convention.
This is the fourth regional win for GTCC, and team coach and culinary arts instructor, Patrick Sanecki, said that this accomplishment shows the amount of dedication and effort GTCC students and faculty put into learning and improving their craft. Even though this year's team members were first-time competitors, they won gold medals for scoring 500 points.
"I have never had a first-year team achieve this level so quickly," Sanecki said. "This is a team of all women, being mothers, wives, students and many working jobs. It has been an amazing accomplishment to achieve."
GTCC's Culinary Knowledge Bowl team is already training for the 2017 ACF National Convention, where they will compete against other regional champions: Kendall College, Eastern Long Island, and defending national champions, Utah Valley University Culinary Arts Institute. GTCC won the national competition in 2014, and hopes to repeat that again this year.
Guilford Technical Community College is the fourth largest of 58 institutions in the NC Community College System. GTCC serves more than 40,000 students annually from five campuses and a Small Business Center. Learn more at www.gtcc.edu.
###
Back to All Articles