GTCC President Dr. Randy Parker to Receive Phi Theta Kappa Award of Distinction
Published on: February 15, 2018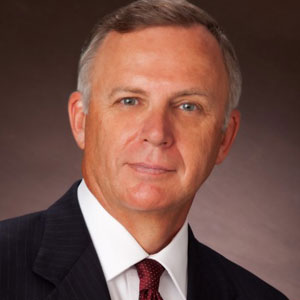 GTCC President Dr. Randy Parker
JAMESTOWN, N.C.  — Guilford Technical Community College announced today that President Dr. Randy Parker has been selected to receive the Shirley B. Gordon Award of Distinction by Phi Theta Kappa (PTK), the international academic honor society for community colleges and two-year colleges.
College presidents are selected for this award based on outstanding efforts given toward promoting the goals of PTK. Dr. Parker will be among 35 community college presidents presented with the award during PTK Catalyst 2018, the society's annual convention, in Kansas City, Missouri, April 19 – 21.
Dr. Parker was nominated by the members of GTCC's Alpha Pi Alpha Chapter for the strong level of support he and the college give to the chapter and their activities. The GTCC PTK Chapter was founded in 1989; the honor society rewards students who have achieved a 3.25 or higher grade point average.
"Our chapter has been inspired by Dr. Randy Parker's longevity with PTK. He has not only been a longtime member but has also led the way for countless others through the hope and experience he shares with our chapter members and the students at Guilford Technical Community College," said John W. Kelly, GTCC Alpha Pi Alpha chapter president. "We wanted to honor Dr. Parker and his continued support of PTK and the GTCC Alpha Pi Alpha Chapter by nominating him for this special award."
Guilford Technical Community College is the fourth largest of 58 institutions in the North Carolina Community College System. GTCC serves more than 35,000 students annually from five campuses and a Small Business Center. Learn more at http://www.gtcc.edu/.
# # #
About Phi Theta Kappa:
Phi Theta Kappa is the premier honor society recognizing the academic achievement of students at associate degree-granting colleges and helping them to grow as scholars and leaders. The Society is made up of more than 3.5 million members and nearly 1,300 chapters in nine nations. Learn more at ptk.org.
Back to All Articles