GTCC Students Shine at SkillsUSA State Conference
Published on: May 9, 2018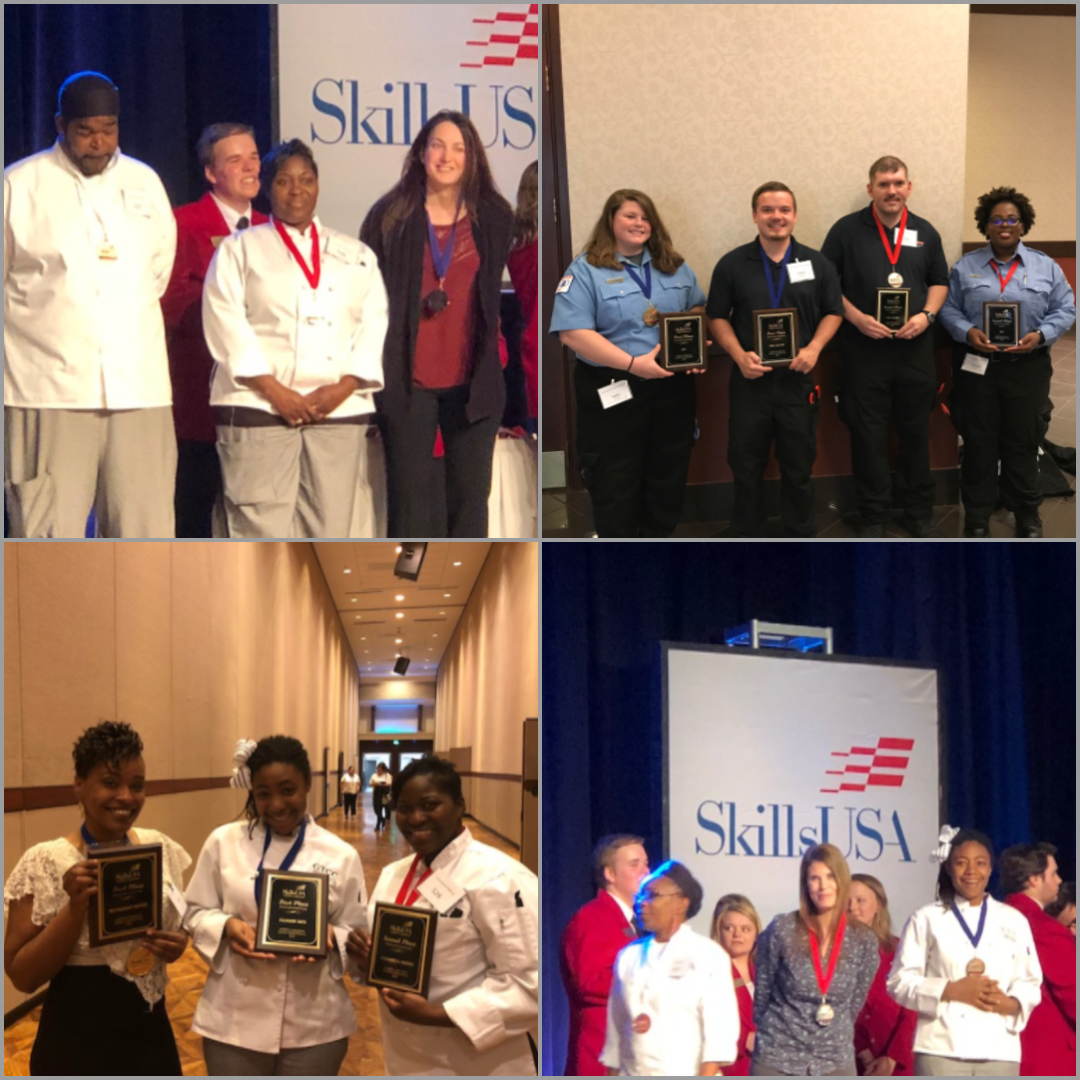 Fifteen GTCC students earned first place during the SkillsUSA North Carolina State Conference held April 18-20 in Greensboro.
JAMESTOWN, N.C.  — Guilford Technical Community College students excelled at the SkillsUSA North Carolina State Conference held April 18-20 in Greensboro. Fifteen students placed first in the competition with several advancing to compete in the 54th annual SkillsUSA National Leadership and Skills Conference June 25-30 in Louisville, Kentucky.
The statewide competition was held at the Greensboro Coliseum, Joseph S. Koury Convention Center, and GTCC's Jamestown and Greensboro campuses. GTCC had 87 students competing across 26 skilled trade areas including automotive refinishing technology, aviation, CNC milling, culinary arts, cosmetology, computer programming and emergency management.
Fourteen of the first-place contestants, along with nail care model Savannah Spivey, will compete at the national competition next month. It is a significant achievement where each winner has claimed their spot in the top 3% of all students in their trade area.
SkillsUSA is a national nonprofit organization serving teachers and high school and college students who are preparing for careers in trade, technical and skilled service occupations. Through its local, state and national competitions, students demonstrate occupational and leadership skills.
Of the 87 GTCC students who competed, 45 placed in the top five in their respective contests:
First place
Rodney Fleming, Aviation Maintenance Technology
Brian Wilson, CNC Milling Specialist
Tyler Jones, Automotive Refinishing Technology
Asia Mininal, Men's Haircutting
Jessica Webster, Nail Care
Beatrice Quezada, Nail Care Model
Naima Durrett, Culinary Arts
Najah Hines, Restaurant Service
Jerricka Braswell, Health Occupation Portfolio
Chad Keesee, Motorcycle Service Technology
Daniel Anderson, First Aid/CPR
Katie Forrest, EMT
John Bass, HVACR
Troy Sanford, Computer Program
Chandler Beamon, Web Design
Brittny Philemon, Web Design
Second Place
Joshua Pugh, CNC Milling Specialist
Japeth Murphy, CNC Technician
April Lawrence, Cosmetology
LaShaundra Resper, Commercial Baking
Jesse Meadows, First Aid/CPR
Terisha Yellock, EMT
Benhamin Bourgeois, Web Design
Clyde Foust, Web Design
Third Place
Eric Henry, Auto Service Technology
Phon Nguyen, Fantasy Hair and Makeup
Nina Boutsady, Fantasy Hair and Makeup Model
Arielle Jones, EMT
Vincent Nguyen, HVACR
Perry Plaine, Computer Program
Fourth Place
Melissa Shorey, Advertising Design
Rachel Cardwell, Carpentry
Lucas Bowman, CNC Technician
John Smith III, HVACR
Lewis Drane, Welding Fabrication Team 1
Austen Germain, Welding Fabrication Team 1
Nickolaus Martin, Welding Fabrication Team 1
JoshuaSchnepf, Computer Programming
Christy Johnson, Web Design
Kathryn Webb, Web Design
Fifth Place
Lynn Abram, Carpentry
Ryan Marsh, Collision Repair Technician
Nicholas Stemen, Electronics
Caroline Morgan, Job Skill Demo A
Richard Battles, Welding Sculpture
Guilford Technical Community College is the fourth largest of 58 institutions in the North Carolina Community College System. GTCC serves more than 35,000 students annually from five campuses and a Small Business Center. Learn more at www.gtcc.edu.
# # #
Back to All Articles