GTCC Honors Graduates at 53rd Commencement
Published on: May 14, 2019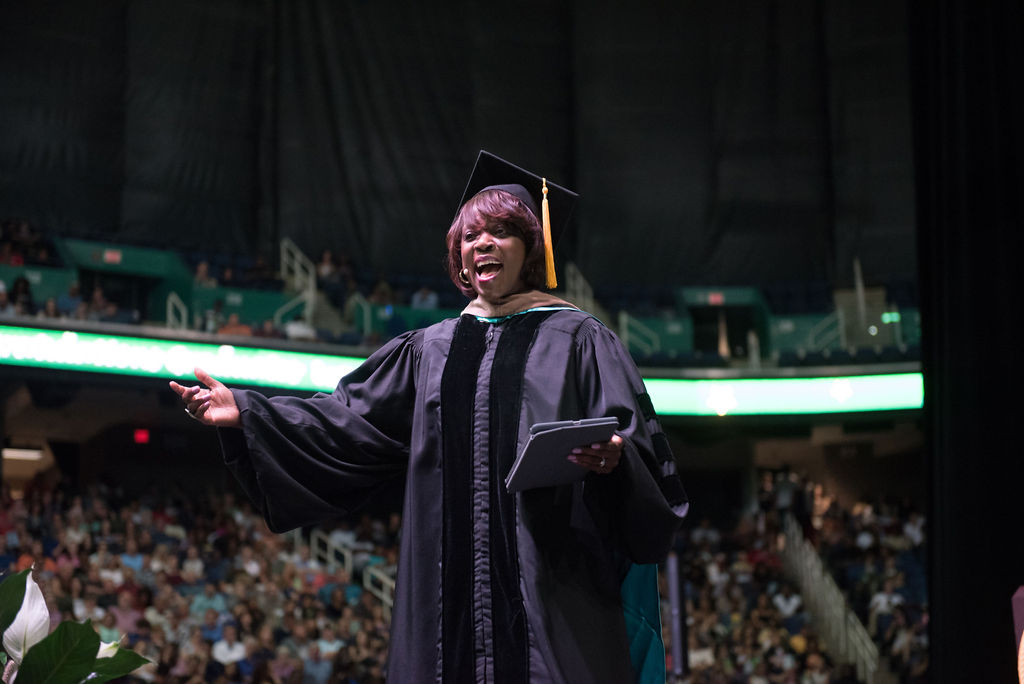 Michelle Gethers-Clark, president and CEO of the United Way of Greater Greensboro, addresses graduates at GTCC's 53rd Commencement Ceremony at the Greensboro Coliseum May 9. Photo: Carrie Lilly
JAMESTOWN, N.C. – Guilford Technical Community College congratulates its 1,410 graduates for the 2018-2019 academic year. The college recognized 780 degree and diploma-level students during its 53rd Commencement Ceremony held May 9, 2019, at the Greensboro Coliseum.
Michelle Gethers-Clark, president and CEO of the United Way of Greater Greensboro, delivered the keynote at the college's 53rd commencement. Drawing from personal experience, she charged the Class of 2019 to use their education as a foundation for rising to the next level. 
"Next is waiting for all of us," she told the graduates. "GTCC has positioned each of you well on the next level. It's up to you to seize this moment in time. Find your ladder of success and climb on it with your education and character as your foundation. When you climb this ladder of success from this next level, you will view the world differently and the world will view you differently."
Susan Alt, chair of GTCC's Board of Trustees presented the 2019 Teaching Innovation Award to Samuel Chinnis, instructor of Supply Chain Management. Chinnis was recognized for integrating SAP's Enterprise Resource Planning software into supply chain courses at GTCC. Through his efforts, students are gaining valuable experience with SAP software, which is widely used in the industry.
Dr. Quentin Johnson, vice president of student support services at GTCC, recognized several outstanding graduates during Thursday's ceremony. The 2019 outstanding graduates included:
Courtney Powley, Outstanding Diploma Graduate
Miranda Williams, Outstanding Associate and Applied Sciences Graduate
Karlene Block, Outstanding College Transfer Graduate
Darcy Kerns, 2019 President's Award Winner
The college's 53rd Commencement was the final ceremony for GTCC President Dr. Randy Parker who will retire at the end of July.
Back to All Articles