GTCC Paralegal Club Leads Effort for North Carolina Paralegal Day Proclamation
Published on: March 22, 2019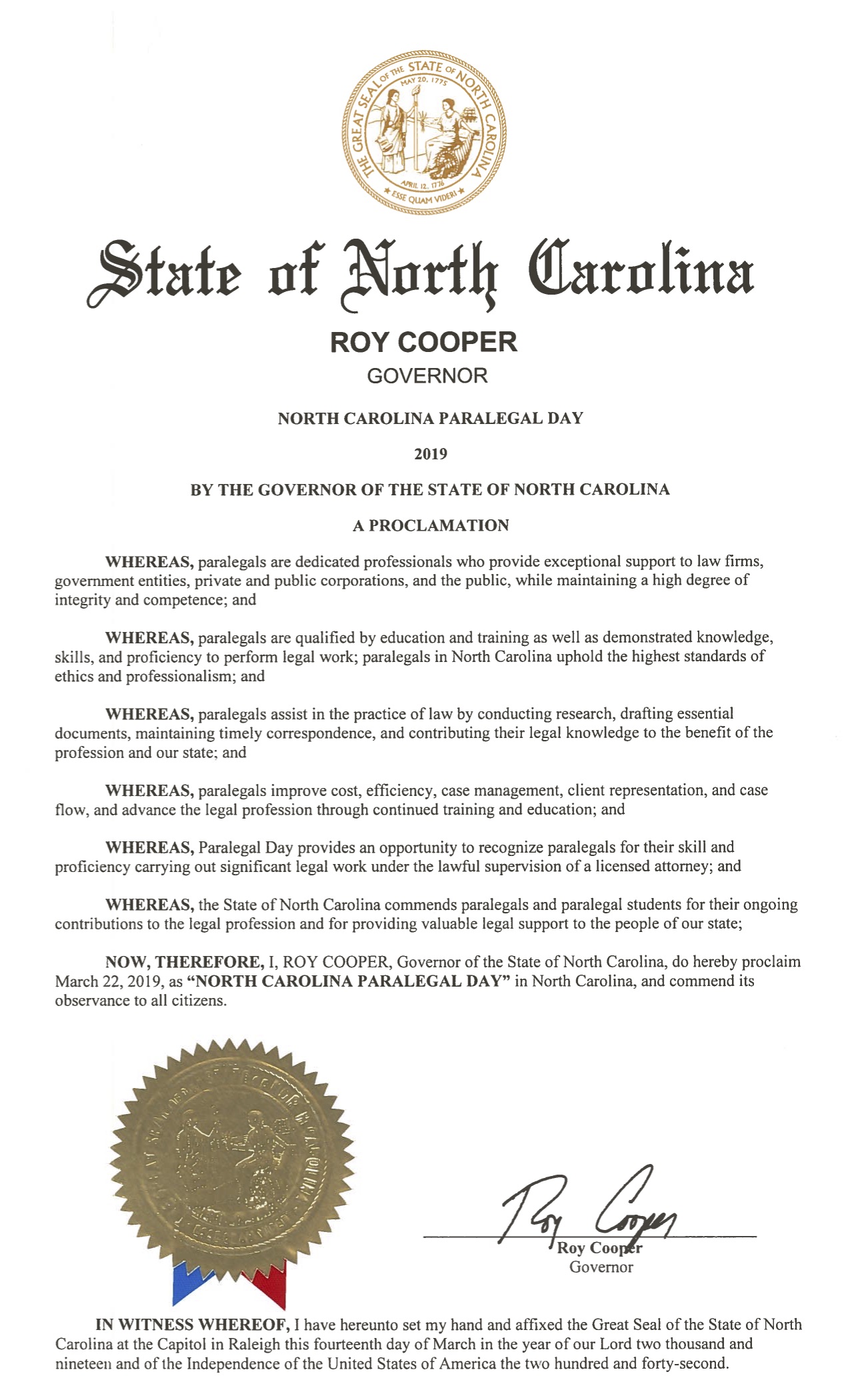 N.C. Gov. Roy Cooper issued a proclamation designating March 22, 2019 as "North Carolina Paralegal Day." GTCC's Student Paralegal Association spearheaded the effort to honor paralegals.
JAMESTOWN, N.C. – When Guilford Technical Community College's Student Paralegal Association set goals for 2019, one rose high on the list. Today the club's aspirational goal becomes reality with North Carolina Gov. Roy Cooper declaring March 22, 2019, as "North Carolina Paralegal Day."
"In an effort to raise awareness of the key role paralegals play within the legal profession, we drafted and submitted the North Carolina Paralegal Day Proclamation within our state's guidelines," said Tami Schlegel, a GTCC paralegal technology student who served on the proclamation committee and was previously secretary for the club.
James Samuels, former public relations officer for GTCC's Student Paralegal Association, also sat on the proclamation committee. For him, having the governor declare North Carolina Paralegal Day honors the profession and the important role paralegals play in the practice of law.
"We want paralegals across the state to know that their hard work is recognized and appreciated," he added. "This proclamation is great recognition for the profession."
The proclamation, which was issued earlier this week, commends paralegals and paralegal students for their ongoing contributions to the legal profession and for providing valuable legal support to the people of North Carolina.
"Working on this proclamation and seeing the work of the committee come to fruition has been a huge sense of pride and accomplishment for these students," says Pamela Hollern, director of the Paralegal Technology program at GTCC.
Once the proclamation was declared, word quickly began to spread across the state through networking and social media. The North Carolina State Bar Association Paralegal Division was among the first to express its appreciation to the students.
"Congratulations to Pam Hollern and the students of GTCC's Student Paralegal Association for their hard work and dedication to make North Carolina Paralegal Day 2019 possible," said Leslie Pegram, chair of the North Carolina Bar Association Paralegal Division.
The Paralegal Student Association at GTCC focuses its efforts on community involvement, volunteer, internships and networking opportunities. Last year, the club participated with area colleges and universities in the NC Bar Feeding Frenzy, a food drive spearheaded by the NC Bar Association's young lawyers division. The students have also volunteered their time to support Family Services with domestic violence cases.
For individuals seeking to enter the legal profession, GTCC offers two career pathways. The college offers an associate degree in paralegal technology and a post-bachelor's paralegal certificate (18 credit hours) for qualifying students. Beginning in fall 2019, the program will also offer select evening classes. 
Back to All Articles