GTCC Student Represents United States at WorldSkills Competition
Published on: October 16, 2019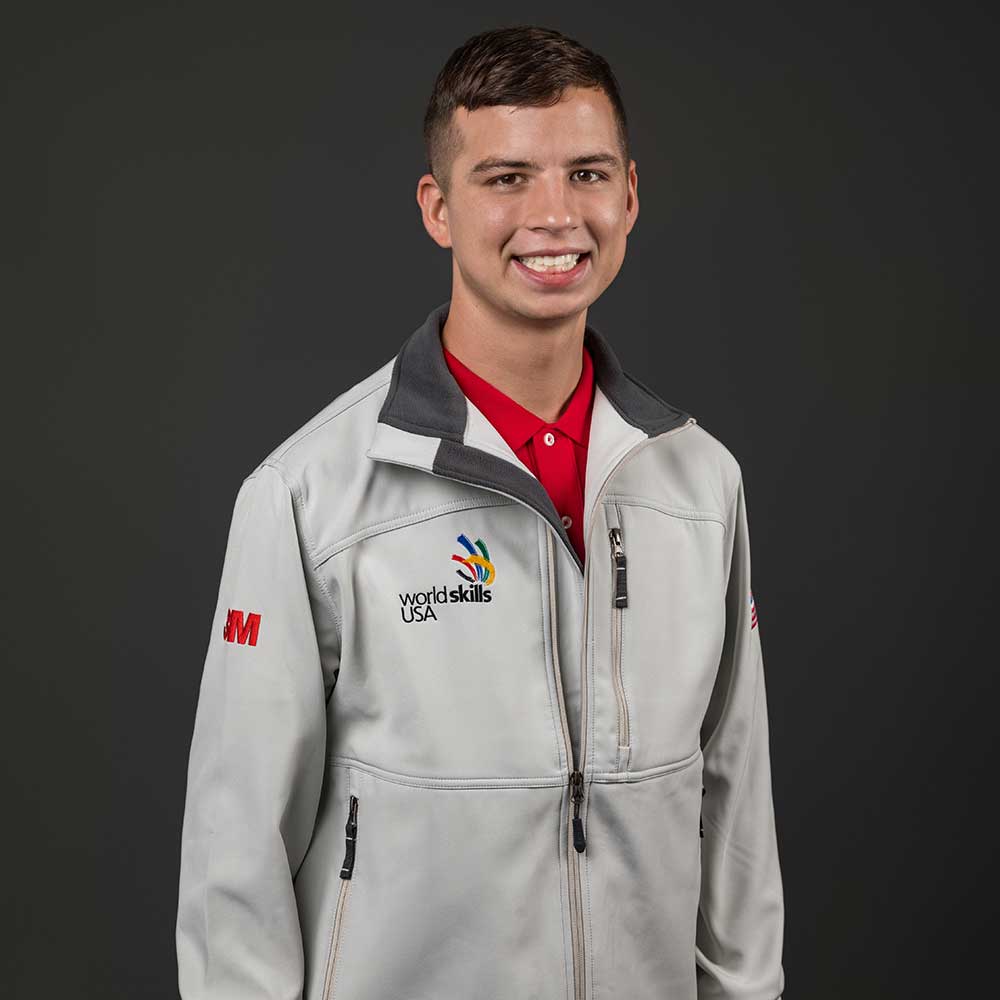 Alex Millikan represented the United States at WorldSkills in Kazan, Russia. He earned his A&P license from GTCC and competed in the aircraft maintenance competition. Photo credit: SkillsUSA.
"Having the opportunity to represent the United States on the global stage at WorldSkills was not only an honor but also a privilege. To be able to do something I love just makes it that much more enjoyable," says GTCC student Alex Millikan who represented the United States at the WorldSkills Competition in Kazan, Russia.
Millikan competed in the aircraft maintenance competition, a first for the WorldSkills USA team. The 45th international event was held in late August and Alex spent two years with SkillsUSA training for the competition.
"It was a balancing act," says Alex who credits his experience in the U.S. Air Force Reserves, his work at GE Aviation and HAECO, and the technical training at GTCC as contributors to his aircraft maintenance skills. "I love troubleshooting and having the ability to fix problems with aircraft. My love of fixing things and solving problems motivates me to be a better mechanic every day."
He chose to follow in his father's footsteps when he enrolled in GTCC's aviation technology program.
"My dad went to GTCC to become a pilot and so I decided it was the fastest and easiest way to get my license in the civilian world," added Millikan. 
Alex earned his Federal Aviation Administration A&P license through the aviation systems technology program from GTCC and secured a spot on the WorldSkills USA team after winning gold at the 2017 SkillsUSA National Competition. Howard Kantor, an aviation systems technology instructor at GTCC, served as Millikan's advisor for the national event.
"Being a night student, Alex came in two hours early three days a week to practice," shared Kantor. "His competition was in 12 different skills, from sheet metal to flight controls to landing gear and electrical troubleshooting. He had eight hours to finish 12 projects, which he took down to the last minute when he took gold."
The top place finish at the national competition paved the way for Alex to compete for a spot on the WorldSkills team, an honor he earned in 2018 after competing in a run-off contest with another top aviation student.
Every two years, WorldSkills hosts the world championships of skills, which attracts more than 1,600 competitors from more than 76 countries and regions around the world to compete in more than 50 different trade skills. Contestants like Alex are considered to be the best in the world at each trade skill.
To train for the world event, Millikan was paired with Clif Stockton, an aviation maintenance instructor at the University of Alaska at Anchorage, who served as his coach. The duo worked together for over a year to prepare for the competition.
At WorldSkills, Alex faced competitors from 16 countries and had to complete five tasks on helicopters made by Russian-based Kazan Helicopters, one of the world's largest helicopter manufacturers. The competition took place over four days. 
"We had to do a visual pre-flight inspection, a sheet metal project where we made a doubler and cutout for an antenna, tested and rewired plugs, rigged a powered flight control unit, and completed a composite tap test inspection," recalled Alex.
Competitors were judged on their ability to complete their assigned tasks, as well as time management, safety and how well they complete their paperwork. Alex placed 13 out of 16 competitors and embraced the opportunity as both a cultural and professional learning experience.
"I felt like I did well for the experience I had," he shared. "I got to meet people from all over the world. Other competitors had years of sheet metal experience."
With SkillsUSA behind him, Alex is now focused on his career. He currently works as an assembly and test technician at GE Aviation's engine facility in Durham, North Carolina, where he builds engines for Boeing 747 and 787 aircraft.
Alex earned worldwide recognition for his success as a SkillsUSA competitor and encourages others pursuing careers in aviation maintenance to commit to life-long learning of the trade.
"Having a thirst for knowledge, a commitment to your work and an eye for detail are key to succeeding in aviation maintenance," he added.
Back to All Articles