GTCC Students Earn Top Honors at SkillsUSA State Conference
Published on: April 16, 2019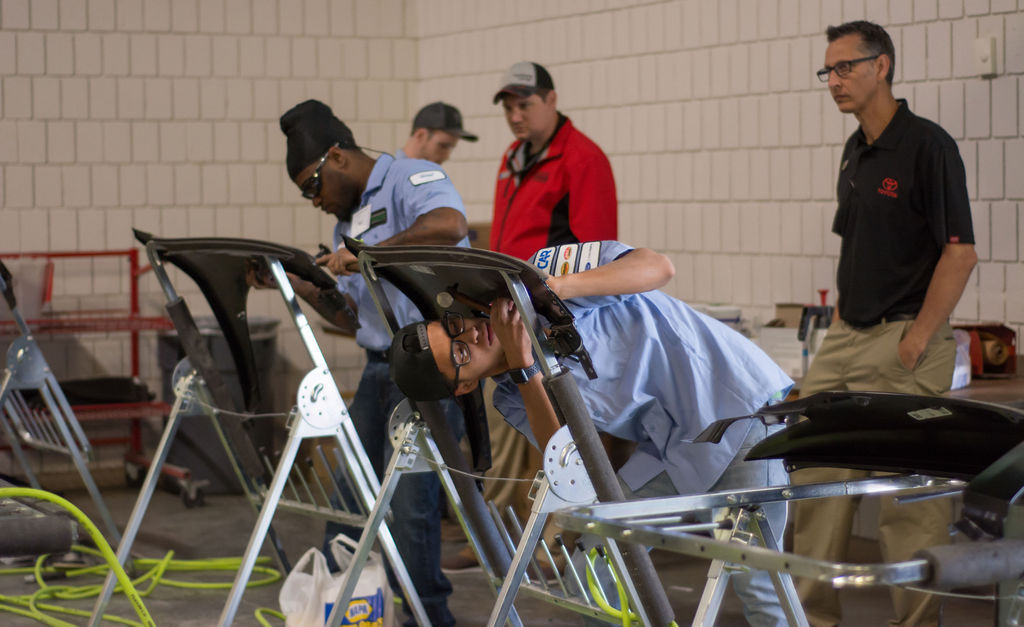 GTCC was a top contender at the SkillsUSA North Carolina State Conference with 95 students competing in several areas.
JAMESTOWN, N.C.— Students representing Guilford Technical Community College recently competed at the SkillsUSA North Carolina State Conference held April 9 -11 in Greensboro. Twelve GTCC students earned first place (gold) and have the opportunity to represent North Carolina in the national SkillsUSA competition June 24-28 in Louisville, Kentucky.
The largest showcase of career and technical education in the state, SkillsUSA took place at the Greensboro Coliseum, Joseph S. Koury Convention Center and GTCC's Jamestown and Greensboro campuses. GTCC was a top contender with 95 students competing in 30 skilled trade areas including automotive refinishing technology, aviation, CNC milling, culinary arts, cosmetology, computer programming and emergency management.
"These contests are a way for students to showcase their talents and prove themselves marketable in the workplace," shared Jeff Faircloth, GTCC's SkillsUSA chapter advisor and program director for the automotive and diesel program.
SkillsUSA is a national nonprofit organization serving teachers, middle school, high school and college students who are preparing for careers in trade, technical and skilled service occupations. Through its local, state and national competitions, students demonstrate occupational and leadership skills.
Forty-two GTCC students placed in the top five during the state competitions:
First Place
Melissa Shorey, Advertising Design
Frank Dumas, Aviation
Grace Tomberlin, Barbering
Johnathan Burgess, Computer Programming
Najah Samarameh, Criminal Justice
Emily Wilson, EMT
Steven Sneed, First Aid/CPR
Katie Delappe, Health Occupations Professional Portfolio
Jessica Webster, Nail Technician
Naja Hines, Restaurant Service
Bryan Mack, Web Design
Jenny Pizzino, Web Design
Second Place
Tay McLaughlin-Scott, Barbering
Joshua Pugh, CNC Machining
Ryan Marsh, Collison Damage Appraisal
Isaiah Edwards, Computer Programming
Brittany Thornton, Cosmetology Beginner Skills
Mathew Joyce, Criminal Justice
William Jones, Culinary Arts
Elvira Krdzalic, EMT
Rachel Cessna, First Aid/CPR
Michael Bullard, HVACR
Third Place
Noelle Ribot, Advertising Design
Adrienne Mattson-Perdue, Carpentry
Lukas

Gartman

, Computer Programming
Connor Barr, EMT
Fourth Place
Bedilu Wom, Automotive Refinishing Technology
Michael Boggan, Barbering
Corey Pate, CNC Technician
Ziad Benkerrou, CNC Machining
Mayra Aamir, Cosmetology Beginner Skills
Courtney Powley, Dental Assisting
Randy Perez, Electrical Construction Wiring
Hailey Bryant, EMT
Seth Parker, HVACR
Fifth Place
Charmaine Brown, Carpentry
Johnathan King, CNC Technician
Patrick Love, Computer Programming
Natasha Bullins, EMT
Faith Lee, Hair Coloring
Tim Brinkley, HVACR
Sam Mize, Welding Sculpture
Back to All Articles