GTCC Students Medal at SkillsUSA National Leadership and Skills Conference
Published on: July 11, 2019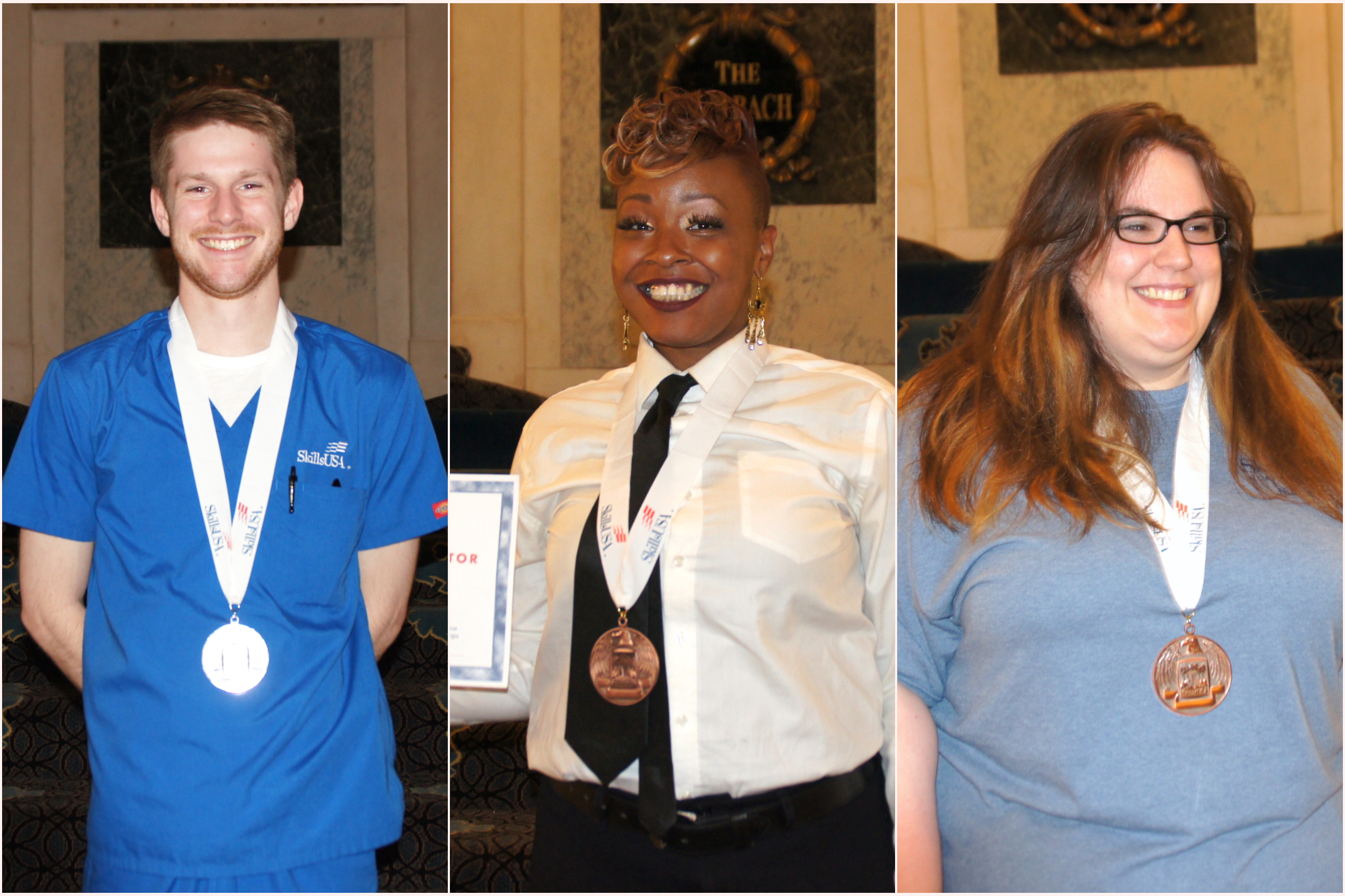 Three GTCC students medaled at the SkillsUSA National Leadership and Skills Conference. Pictured left to right are: Steven Sneed, silver medal for First Aid/CPR; Najah Hines, bronze medal for Restaurant Service; and Melissa Shorey, bronze medal for Advertising Design.
JAMESTOWN, N.C. — Guilford Technical Community College students earned top 10 rankings at the 55th annual SkillsUSA National Leadership and Skills Conference held June 24-28 in Louisville, Kentucky. Three GTCC students brought home silver and bronze medals.
Nine GTCC students competed across skilled trade areas including Aviation, Advertising Design, Computer Programming, First Aid/CPR and Restaurant Service. The following students placed in the top 10 in their respective contests:
Steven Sneed, First Aid/CPR (Second place)
Melissa Shorey, Advertising Design (Third place)
Najah Hines, Restaurant Service (Third place)
Frank Dumas, Aviation Maintenance Technician (Fourth place)
Isaiah Edwards, Computer Programming (Fourth place)
Michael Bullard, Major Appliance and Refrigeration Technology (Sixth place)
Grace Tomberlin, Barbering (Seventh place)
Additionally, North Carolina had the highest overall medal count of any state in the nation with 78 individual medals.
SkillsUSA is a national nonprofit organization serving teachers, middle school, high school and college students who are preparing for careers in trade, technical and skilled service occupations. Through local, state and national SkillsUSA competitions, students demonstrate occupational and leadership skills. More than 19,000 people including students, teachers and business partners participated in the weeklong event.
Back to All Articles