GTCC to Host Annual Career Fair April 10
Published on: April 2, 2019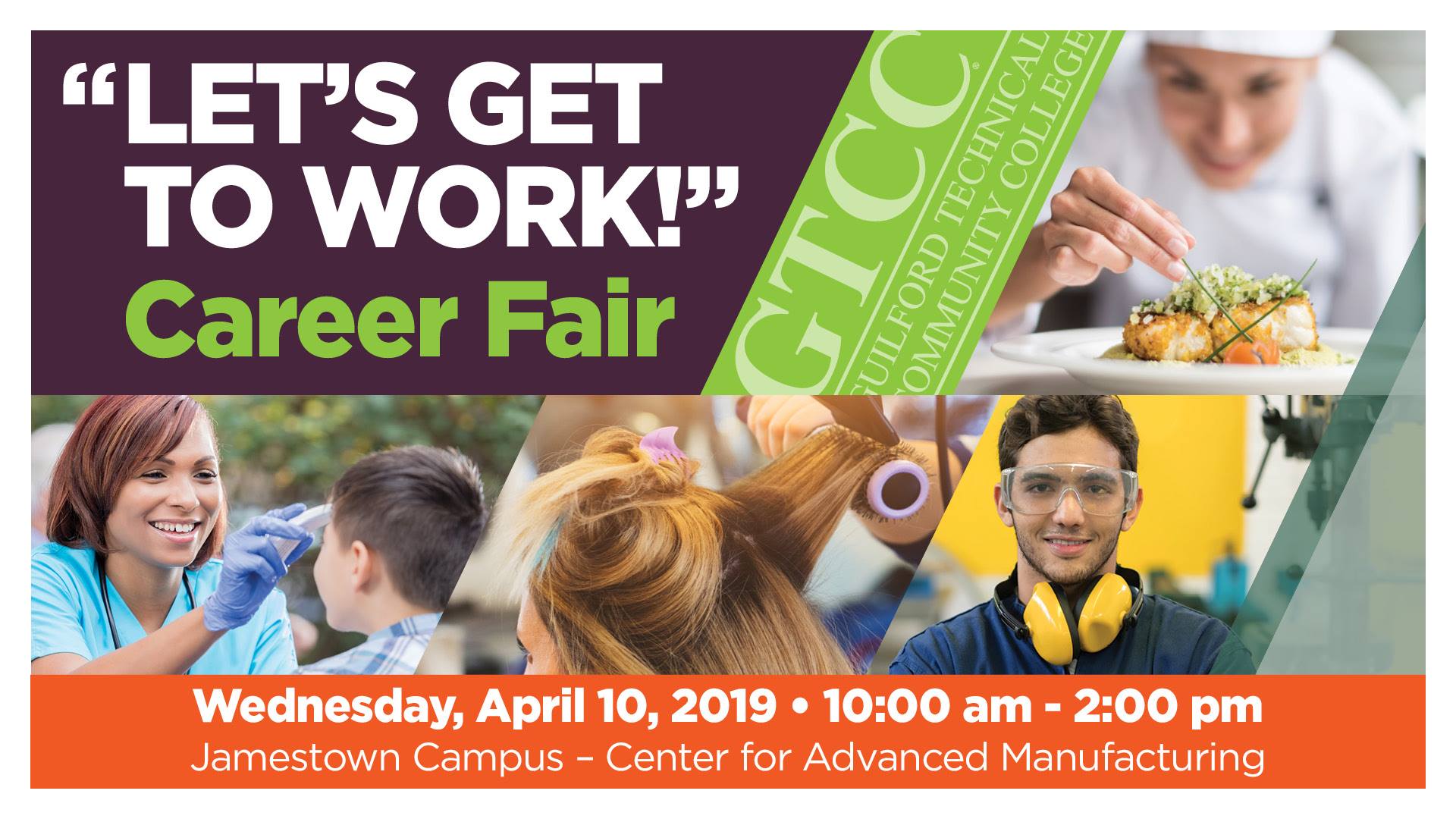 Guilford Technical Community College will host its annual spring career fair Wednesday, April 10, from 10 a.m. to 2 p.m. at the Center for Advanced Manufacturing, Jamestown Campus. This free event offers job seekers an opportunity to network with more than 80 employers across a range of industries.
Susan DeHart, student success and career services coach at GTCC, says that employers value GTCC's spring career fair for the opportunity to meet new talent for their companies.
"Employers look forward to this event every year. Many companies tell me they are not so concerned if a candidate lacks some of the qualifications for a particular job. For them, an individual with the right attitude, great work ethic and a strong interest in learning the skills necessary for the job are the most important qualities," shared DeHart.
Many of the organizations attending this year's career fair represent major Triad employers in health care, manufacturing, logistics, banking, construction, law and others. Whether job seekers are looking to start a career, pivot into a new one or secure summer employment, DeHart adds that GTCC's annual event offers a pathway for individuals to meet their career goals.
Her final piece of advice for job seekers? Don't be shy. 
"Come out, give a firm handshake and chat with the employers. They truly do want to talk to you," she said.
For job seekers new to the career fair circuit and not sure what to expect, GTCC's career advising center provides the following tips:
Bring Plenty of Resumes: Have several copies of your resume on hand; use bullet points to describe your skills and past experiences so employers can easily scan your qualifications.
Dress to Impress: No matter what type of job you are applying for go above and beyond to get an employer's attention. Dress professionally, wear comfortable shoes and remember to go easy on the perfume/cologne. You don't want to do anything to distract the employer's attention from your skills and positive attitude.
Research Participating Companies: Review the list of participating employers and their recruiting needs. Use this information to identify which employers you're most interested in learning about at the career fair, locate their booths and plan to meet with them first. You want to use your energy on your top choices first.
Develop a Sales Pitch: Prepare a 30-second elevator speech to sell your skills to prospective employers.
Arrive Early: Some employers may be unable to stay for the entire event, so don't miss your opportunity to meet with them. 
Don't Loot the Booth: Don't take too many of the employers' promotional items.
Be Positive: About 70 percent of all applicants are hired through networking, so do not get discouraged! Bring your positive attitude.
 The 2019 "Get to Work" Career Fair is a free event and open to the public. For more information, call 336-334-4822, ext. 50169 or click here for a list of participating employers.
Event Details
What:              2019 "Let's Get to Work" Career Fair
When:            10 a.m. to 2 p.m. Wednesday, April 10
Where:           GTCC Center for Advanced Manufacturing 
                             6012 West Gate City Blvd.
                             Greensboro, N.C.
                             Click here for a campus map. Note the Center for Advanced Manufacturing is located at the corner
                             of Guilford College Road and Gate City Blvd. 
Back to All Articles