Guilford Technical Community College to Launch Truck Driving School
Published on: July 25, 2019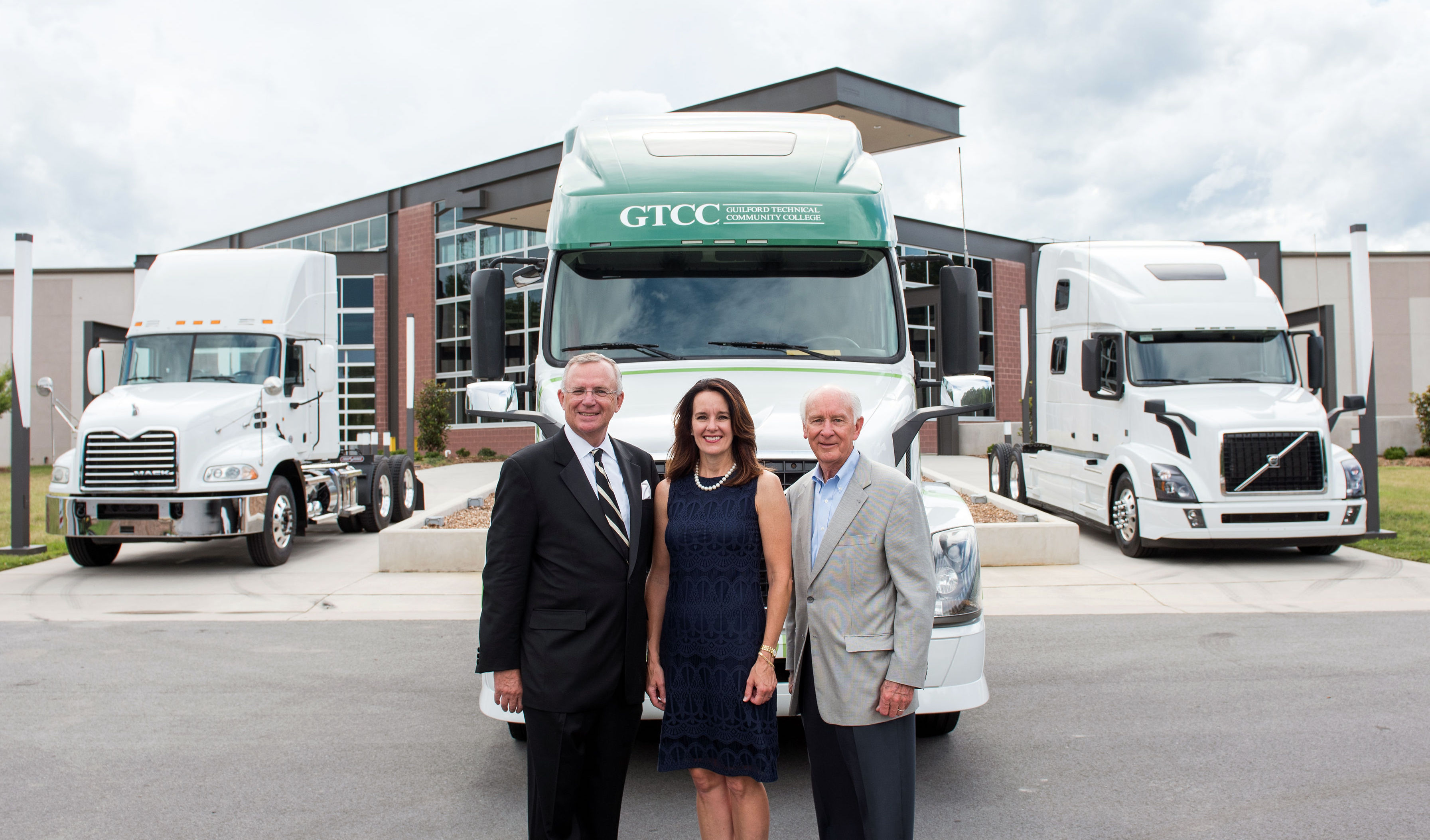 Guilford Technical Community College plans to launch a Truck Driving School soon. Pictured from left to right: GTCC President Dr. Randy Parker, former GTCC BOT Chair Susan Alt, and TranSource Treasurer Jim Bland.
JAMESTOWN, N.C. – Guilford Technical Community College will launch a Truck Driving School in an effort to help local industry address a shortage of drivers. The program will provide the necessary training for individuals to operate a tractor-trailer. Students successfully completing the course will earn a certificate and a Class A Commercial Driver's License (CDL). 
"This new program will develop a pipeline of skilled drivers to support the Triad's growing transportation and logistics cluster," said GTCC Senior Vice President of Instruction Dr. Beth Pitonzo. "Our industry partners have indicated a critical need for qualified drivers and we appreciate their support and enthusiasm in driving this program forward."
With support from industry partners like Greensboro-based Volvo Group, the new program is moving forward. The heavy-duty truck manufacturer provided a steep discount to GTCC toward the purchase of three trucks, a 2018 Volvo VNL 780 model and two pre-owned trucks: a Mack Pinnacle model and Volvo VNL 670 model. The pre-owned trucks were refurbished by TranSource, a Mack Trucks dealer headquartered in Greensboro who will also provide the maintenance. TranSource also assisted the college in securing two trailers for the new program. 
"There is a shortage of drivers. We have an aging driver population on the threshold of retirement and there is no one to fill the void," says Jim Bland, treasurer of TranSource. "This truck driving school is another step in how we can grow, expand and fill the driver shortage in the trucking industry."
Each truck received a 51-point inspection and was brought up to U.S. Department of Transportation safety requirements and emissions standards prior to delivery to GTCC. The trucks arrived at the college's new state-of-the-art Center for Advanced Manufacturing in June.
The U.S. Department of Labor Statistics projects the demand for heavy-duty truckers in North Carolina will increase by 7.7 percent by 2026 with nearly 7,000 job openings annually. As the demand for goods increases, more truck drivers will be needed to keep supply chains moving. In the Triad, the average annual salary for drivers is $42,468 per year.
According to the American Trucking Association (ATA), nearly 71 percent of all the freight tonnage moved in the United States goes on trucks. To move 10.5 billion tons of freight annually requires over 3.6 million heavy-duty Class 8 trucks and over 3.5 million truck drivers. The ATA estimates there is a 50,000 shortage of drivers nationwide.
The new Truck Driving School will complement GTCC's existing Diesel and Heavy Equipment Technology program, which operates out of the Center for Advanced Manufacturing on the college's Jamestown campus. 
GTCC plans to launch the program soon and will provide more details at a later date. Individuals interested in pursuing a career in heavy-duty trucking can visit www.gtcc.edu/trucking and sign up to receive more information.
Back to All Articles