To meet the rising demand for nurses, organizations are turning to Puerto Rico to recruit talent
Published on: October 2, 2019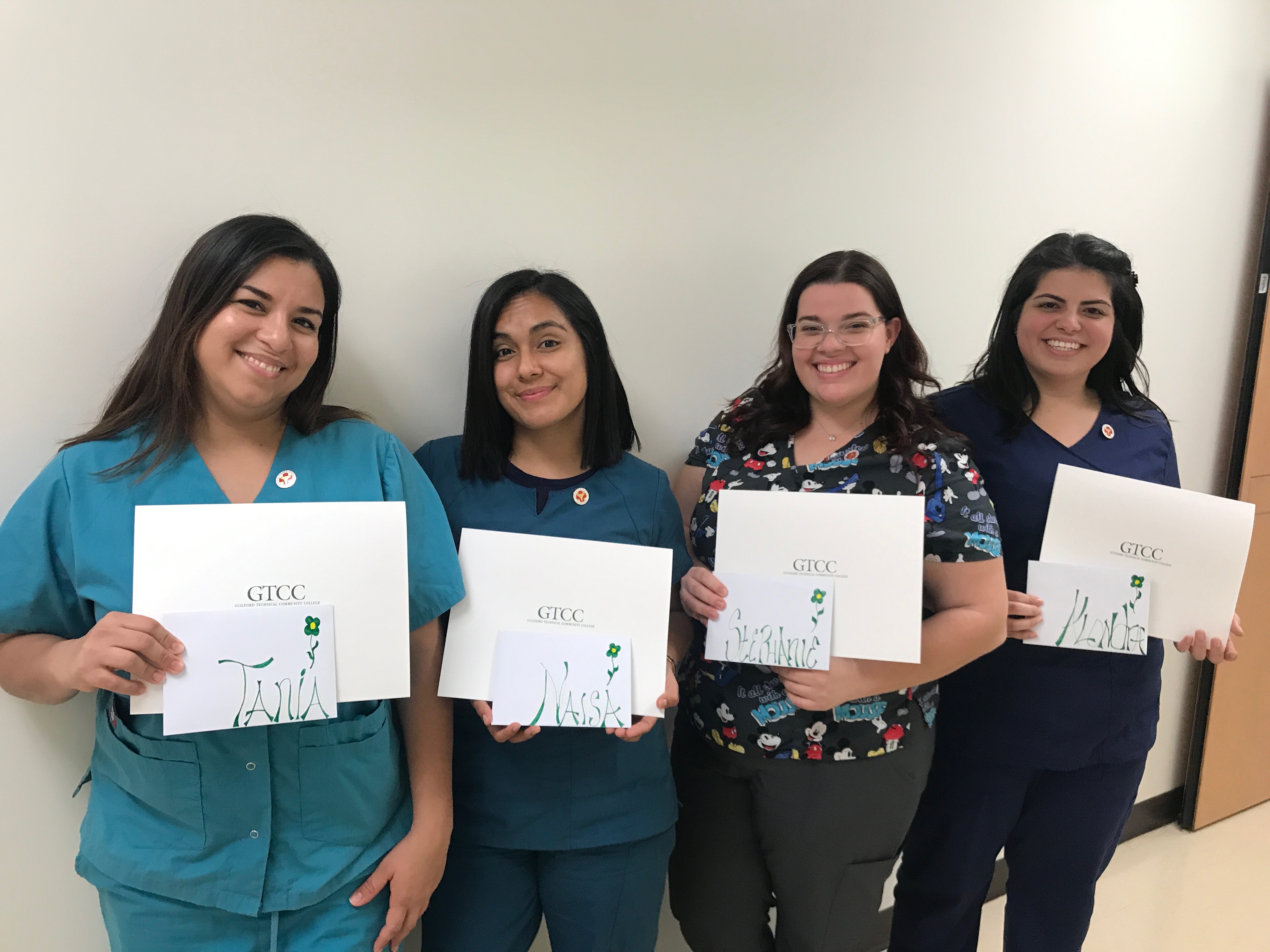 A cohort of nurses from Puerto Rico who trained at GTCC earlier this year are all smiles after completing the program. Pictured left to right: Tania Munoz, Naisa Suarez, Stephanie Rivera, and Alondra Abreu Carlo.
When Hurricane Maria struck Puerto Rico in September 2017, the health care infrastructure was decimated and left many young professionals starting their nursing careers with nowhere to turn.
"In Puerto Rico, finding a job is very difficult. The hospitals are full or don't have enough money to pay staff. I have friends who graduated two years ago who still haven't found a job," said Alondra Abreu Carlo, a nursing graduate from the University of Puerto Rico Mayaguez.
Tania Munoz, a mother of two, faced a similar challenge after completing her nursing program. "I finished my degree and it had already been two years. I couldn't find a job as a nurse," she shared.
Yet in the United States, there is a shortage of nurses, especially in long-term care facilities where Baby Boomers are driving an increase in demand for health care. The Bureau of Labor Statistics projects a need for an additional 203,700 new registered nurses each year through 2026 to fill newly created positions and to replace retiring nurses.
The workforce shortage has companies like Century Care Management, a long-term care provider in North Carolina, looking outside the U.S. to recruit talent. Alondra and Tania were part of a cohort of four nurses from Puerto Rico who trained earlier this year at Guilford Technical Community College.
"Though Puerto Rico is a U.S. territory, the education of nurses is similar but the licensing exam is different. In order for these young ladies to work as nurses, they must study for and pass the NCLEX, the national nursing examination," said Warren Crow, GTCC director of health careers and nursing assistant program.
Through a cooperative agreement with the Board of Nursing and the Department of Health Service Regulation, these nurses had the opportunity to come to North Carolina and work as nursing assistants while they spend the next year reviewing and studying for the comprehensive nursing exam. GTCC was one of four state-approved institutions to assist with the project.
For Stephanie Rivera, another nurse in the cohort, the trade-off was worth it.
"I'm already a registered nurse and now I have to go back to being a certified nursing assistant for one year. It's a sacrifice for having my NCLEX, but then I'll be able to keep going forward," she said.
For two weeks, the nurses prepared intensively for the material and skills needed to pass the North Carolina Nurse Aide exam. After passing the exam, they will be listed on the nurse aide registry and be able to work as nursing assistants at the sponsoring long-term care facilities. 
Tiffany Thieken is an instructor for GTCC's nursing assistant program and taught the cohort. She completed a Spanish immersion program in Costa Rica and her command of Spanish was helpful in assuring the students had a good understanding of nursing terms.
"I've been to Puerto Rico, and I wanted to be an advocate for Puerto Rican nurses to have a wonderful opportunity in the U.S. to work and use their amazing skills," she said. "I'm always in the teaching role and this was more of a sharing and a collaboration of knowledge. It has been really fun and we are getting them ready to enter the workforce."
"They crushed three months and a half of material into eight days," said Alondra. "They made us a banner to welcome us, so we felt at home. It has been an amazing experience." 
Feeling at welcome was important since some of the nurses left their families in Puerto Rico in pursuit of opportunity. 
"I'm here by myself. I don't have my family so it's a whole new experience," added Alondra. "I get to be independent. I get to grow, I get to learn more about myself, I get to become an amazing nurse with these amazing teachers who are teaching us so much. I'm super happy about it."
For Tania, she is following her dream and encourages others to find strength in uncertainty. 
"Sometimes things get scary and we're not sure about taking steps, but life is about that. Life is about following your dreams and doing what you think is best for you and your family. So just go ahead and do it," she said.
The cohort passed their North Carolina Nurse Aide exams and have gone to work at long-term care facilities in the Triad and Southern Pines.
Back to All Articles