GTCC Annual Astronomy Festival Set for March 7
Published on: March 3, 2020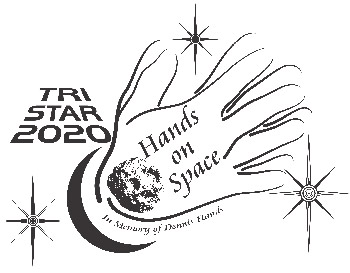 JAMESTOWN — Guilford Technical Community College will host its annual astronomy festival, TriStar, Saturday, March 7 on GTCC's Jamestown Campus. The event gathers astronomy enthusiasts, from novice to professional, for a full day of presentations, displays and observing. It is free and open to the public.
"The TriStar festival of astronomy brings together astronomy enthusiasts from across North Carolina and the surrounding states to share ideas, learn about a range of astronomical topics, get together with old friends and make new ones," said Tom English, astronomy professor and director of the Cline Observatory at GTCC. "This year we will celebrate the life of Dennis Hands, a longtime organizer of this event who passed away in January."
TriStar kicks off at 8:30 a.m. Saturday, March 7. This year's event will feature a series of speakers throughout the day, as well as a wide range of astronomical displays, assorted astronomy-related vendors, prize drawings, "how-to" help for astronomy beginners, an astroimaging contest and nighttime observing sessions (weather permitting) at the Cline Observatory. A complete schedule for TriStar 2020 can be found here.
Speakers featured at TriStar 2020 include:
Patrick Treuthardt, assistant head of astronomy and astrophysics research lab at the North Carolina Museum of Natural Sciences, will give a lecture on "Spiral Graph: A Citizen Science Project with a Twist." His talk is scheduled for 9:30 a.m.
Johnny Horne, astrophotographer, writer for the Fayetteville Observer and Sky & Telescope magazine, will present his talk on "Astronomical Imaging Retrospective … a Look Ahead." His lecture begins at 11:15 a.m.
David DeVorkin, senior curator, history of astronomy and the space sciences at the Smithsonian's National Air and Space Museum, will speak on "In the Grip of the Big Telescope Age: From Herschel to Hale." DeVorkin's presentation begins at 2 p.m.
Jack Howard, astronomy instructor at Rowan-Cabarrus Community College, will present, "Astronomy in Chile: Clear Skies, Monster Scopes, and Astrotourism." His lecture starts at 3:30 p.m.
All events will take place at the Joseph S. Koury Auditorium, Jamestown Campus, 601 E. Main St., Jamestown, North Carolina. Parking available in Lot F. For more information, please contact Tom English, professor of astronomy at GTCC and director of Cline Observatory, at trenglish@gtcc.edu.
Guilford Technical Community College is the fourth largest of 58 institutions in the North Carolina Community College System. GTCC serves nearly 35,000 students annually from six campuses and a Small Business Center. Learn more at www.gtcc.edu.
Back to All Articles