GTCC Student Vanessa Keshguerian Finds Passion in Computer Integrated Machining
Published on: December 9, 2020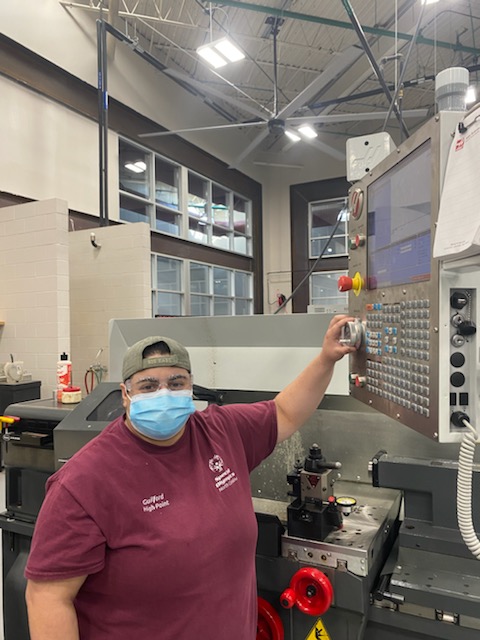 When she was working as an educational interpreter for Guilford County Schools, Vanessa Keshguerian discovered how much she enjoyed using her hands to create.
"I love sign language and love interpreting," she says.
Keshguerian learned sign language while attending the University of North Carolina at Greensboro. She learned to sign because of a fellow student and the experience inspired her to pursue her undergraduate studies in sign language.
"I fell in love with the language. UNCG offered a program in sign language and there were three areas of study in the profession of deafness," she added. 
Keshguerian graduated from UNCG in 2016 with a bachelor of science and spent two years working as a community and educational interpreter.
But something was missing. Keshguerian kept asking herself, "what do I want to do?" One night her wife was browsing the internet looking at videos from Guilford Technical Community College and came across a video about the college's Computer Integrated Machining program. 
"I thought it looked super cool," she recalled.
Keshguerian contacted the college to learn more about the program. She toured the college's Computer Integrated Machining lab. Seeing the high-tech machines brought back memories of her dad and grandfather's embroidery shop. 
"They had huge machines that were meters long. I remember working alongside my dad and grandpa on these machines. It sent me back," Keshguerian said. "I left thinking this is what I want to do."
She enrolled in 2019 and is pursuing her associate's degree in Computer Integrated Machining Technology.
"It was kind of difficult when I first came in. I knew what a screwdriver was but that was it," she said. "I started from the ground and built myself up. I love the precision of machining and working with tolerances."
Keshguerian has worked her way through the program, learning to first use manual mills and lathes and then advancing to the CNC mills, CNC lathes, and turning centers. While she hasn't decided what she wants to do when she completes the program, she's enjoying the artistry of engraving. Last year, Keshguerian used her new technical skills to create ornaments for Christmas. One ornament involved using a water jet to transform a piece of aluminum into the Deathly Hallows from the popular Harry Potter series.
Keshguerian's hard work and dedication earned her recognition in the college's Student Excellence Awards earlier this year. She was also scheduled represent GTCC and compete in the SkillsUSA North Carolina State conference, which was unfortunately canceled because of the COVID-19 pandemic.
Keshguerian says she and her wife have talked about opening a small business where she could do engraving. For now, she's taking in the experience of learning her craft. 
"My wife is happy for me. Every time I come home from school, I'm excited. She hasn't seen me like this in a long time," added Keshguerian.
Back to All Articles