GTCC Truck Driver Training Program Graduates First Class
Published on: December 21, 2020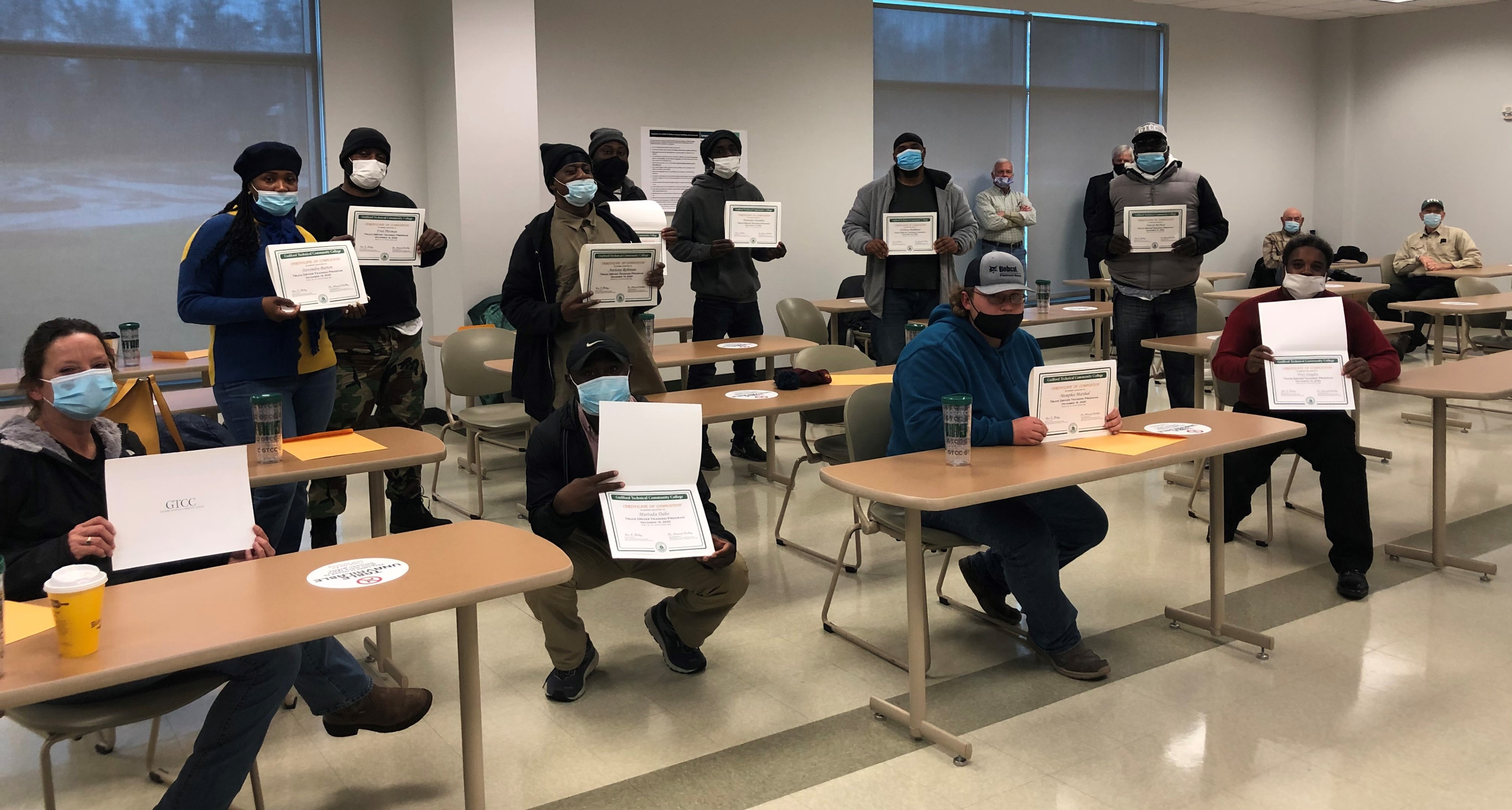 JAMESTOWN, N.C. (Dec. 21 2020) – Eleven Guilford Technical Community College students became the first graduates of the school's Truck Driver Training program Wednesday, Dec. 16 in a ceremony held at GTCC.
With completion of the course, the first group of Truck Driver Training graduates each earned a certificate and a Class A Commercial Driver's License (CDL).
Each student completed a 320-hour course with 22 percent of their course work in the classroom and the remaining 78 percent on the driving range and/or on the road.
"This is a vital industry. We recognize this in 2020 more than ever," said GTCC President Dr. Anthony Clarke during the graduation ceremony. "We are so proud to be able to meet this need for our community and beyond with our ready-to-work graduates, the very first set of graduates to complete this program at GTCC."
The Truck Driver Training curriculum was created in an effort to help local industry address a shortage of tractor-trailer drivers. The program's first group of students began classes in October of 2020.
The program places emphasis on vehicle inspection, defensive driving, range maneuvers, motor carrier's safety regulations, trip planning, cargo handling, size and weight laws, general maintenance procedures, hours of services and vehicle accident prevention.
The U.S. Department of Labor Statistics projects the demand for heavy-duty truckers in North Carolina will increase by 7.7 percent by 2026 with nearly 7,000 job openings annually. As the demand for goods increases, more truck drivers will be needed to keep supply chains moving.
According to Glassdoor.com, the national average salary for truck drivers is $58,077 a year.
"The best thing about this program is we can take someone from unemployment to $58,000 in eight weeks of education and training," said Van Staley, director of the truck driver training program. "There aren't many industries that can offer that. I couldn't have asked for a better first group to go through this program."
Rick Cates, the vice-president of workforce strategies and fleet safety at Marsh USA in Greensboro, who was instrumental in supporting the development of the Truck Driver Training program, was at Wednesday's ceremony to show his continued support.
"Right down the road one of the largest distribution centers in the nation is being built by Publix.  They chose to build here because of programs like this in our community. Because of drivers just like you," Cates told the graduates.
For more information on GTCC's Truck Drive Training program, visit https://www.gtcc.edu/academics/academic-programs/programs/workforce-development-corporate-training/occupational-training/commercial-drivers-license-training.php.
About Guilford Technical Community College: Guilford Technical Community College is the third largest of 58 institutions in the North Carolina Community College System. GTCC serves nearly 35,000 students annually from five campuses and a Small Business Center. Learn more at www.gtcc.edu.
###
Back to All Articles