Pair Of High School Seniors Get Head Start On College Through GTCC Career and College Promise Program
Published on: November 19, 2020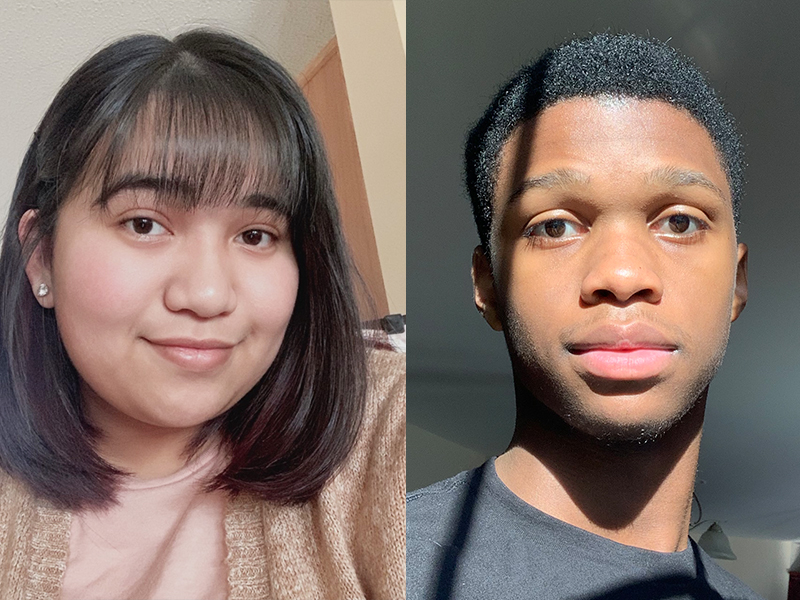 Khristine Bautista and Stewart Bartlett both wanted to get a head start on college. They didn't have to look very far to get the best start possible.
Bautista, a senior in the Triad Math and Science Academy in Greensboro, and Bartlett, a senior at Southwest Guilford High School, both enrolled in the Career and College Promise program at Guilford Technical Community College.
It was a decision that will have an invaluable and lasting impact in their college careers.
"I want to reach out to high school students who are hesitant about taking college classes or taking part in this program," said Bautista, a self-described science geek who also loves art, working with her family's plant collection and cooking. She recently mastered a tasty Tiramisu, she said proudly.
"This program has helped both my high school and college career. It not only helped me to excel in my academics but prepare me for the future I hope to pursue."
The Career and College Promise offers North Carolina high school students the opportunity to earn college credits at a community college campus. The program is tuition-free for high school juniors and seniors with a cumulative unweighted GPA of 2.8 or higher or passing test scores.
There are two types of Career and College Promise Pathways: College Transfer and Career and Technical Education Pathways.
Students enrolled in a college transfer pathway can earn college credit transferable to all UNC System institutions and many of North Carolina's independent colleges and universities.  Students who enroll in a career technical pathway can earn a certificate of diploma in a technical track.
Bautista and Bartlett are both in the College Transfer Pathway. Bartlett is enrolled in five GTCC classes this semester while Bautista is taking three.
They were attracted to the Career and College Promise program because they believed it would better prepare them for the rigors of a four-year institution.
"One of my favorite parts about GTCC was definitely getting the on-campus 'college experience'," said the 17-year-old Bartlett,  who is a member of the soccer and track teams at Southwest Guilford as well as being involved in the Black Cultural Awareness Club and HOSA, which is a unique program of leadership development.
"My work at GTCC will impact my four-year experience in a totally different way in terms of my work ethic. I will absolutely be much more prepared, and it will give me an advantage over other students due to my exposure and experiences at GTCC."
Bautista also believes she will be better equipped for a four-year college experience after studying at GTCC.
"Through the program at GTCC, I was able to take most of the general education requirements that a typical four-year college requires," said Bautista, who plans on majoring in Biomedical Engineering when she enrolls in a four-year university. "Also, by taking classes at GTCC, I became more prepared for my college career as I'm now more familiar with the college environment and all the aspects of it.
"I also think that by doing college in high school, I can find the things I would like to pursue in my future career and know exactly what I want to do. I've built a foundation through GTCC."
The move into the Career and College Promise program should not be taken lightly, says Bautista. High school students making the move into the program should be prepared for hard work.
"During the first semester at GTCC, it was a bit difficult to adjust to college since I was fairly new to college and the environment," said Bautista, a native of the Philippines who moved to the United States with her family when she was 5 years old.  "I had to be more responsible in getting to class on time, knowing where my classes are located and being prepared for those classes.
"I also had to develop new study skills and techniques since not all professors at GTCC have the same teaching format. I had to adjust to the different formats of all my classes and try to find the best way to study using their format. It was a lot to take in, but it truly benefitted me through my career at GTCC, and also through my high school classes."
But the two agree the Career and College Promise experience is well worth the hard work.
"This is definitely one of the best programs for rising and current high school juniors and seniors," said Bartlett. "The program gives you the raw college experience and will challenge you to make new friends and colleagues along the way."
"Through the Career and College Promise program, you will be prepared for college, discover interests in your career, and have diverse experiences as you pursue your college career," Bautista added. "Going to college as a high school student can be a little challenging but the positive effects are well worth it."
The deadline to submit applications for the spring 2021 semester of the Career and College Promise is December 4, 2020. To access the application process and forms, visit https://www.gtcc.edu/academics/high-school-programs/career-and-college-promise.php. 
Back to All Articles