Titan Link Continues Assisting Students in the Wake of COVID-19
Published on: April 3, 2020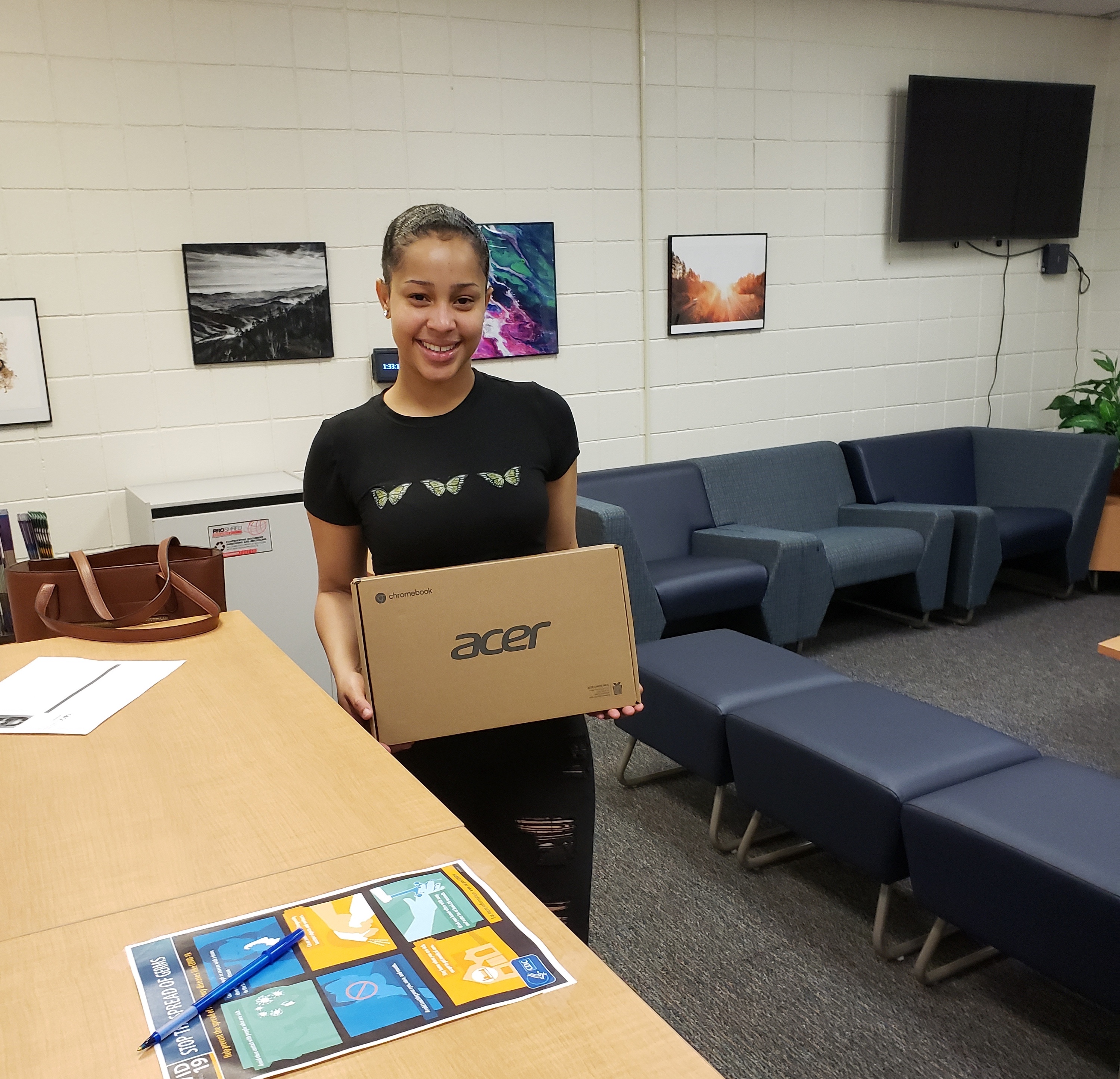 Selena Griffith was among 41 students who received a Chromebook, which was partly funded by the GTCC Foundation.
Transitioning from in-class to distance learning can be challenging. Especially if you don't have a reliable computer or electronic device. Titan Link, GTCC's services support program that helps students with life issues that arise outside the classroom, recognized there would be a need among students as the college prepared for remote learning in the wake of the coronavirus outbreak last month.
"We had students who expressed concern because they didn't have access to technology or access to a reliable device at all. We tried to secure devices to help our students complete their program of study," shared Titan Link Program Coordinator Sybil Newman.
Students with a demonstrated need were referred to Titan Link by GTCC faculty and staff. The college worked with the GTCC Foundation and college leadership to secure funding for Chromebooks. The collaboration between Titan Link, the GTCC Foundation, and the college's IT department resulted in 41 Chromebooks being distributed to students.
Sybil shared that many of the students were overwhelmed with excitement when they learned the Chromebooks were theirs to keep.
"They think they are loaners and we tell them 'these are yours,'" she added. "They can continue to use them for their other classes and we mitigate that hardship."
Brandi Gilbert is studying therapeutic massage at GTCC and was among the Chromebook recipients.
"I was worried that because I did not have access to a computer that I would have to discontinue my studies," she wrote in a thank you letter to the college. "I'm so happy to have received such an absolute blessing. To the amazing folks at Titan Link, the incredibly helpful faculty, and the wonderfully generous angels that donate to GTCC, from the bottom of my heart, thank you."
Working in an environment that requires social distancing will not deter Sybil Newman and the Titan Link team from connecting students with the resources they need. Newman shared that they have experienced an increase in requests as a result of the COVID-19 outbreak.
"Food is another hardship we are trying to address," she shared. "There is a need and we are directing students to community services for housing, food, and other needs. I'm going to continue to do what we need to do."
While the college has closed all buildings and campuses due to the coronavirus, students with a need for Titan Link support services can reach the team at titanlink@gtcc.edu.
Back to All Articles