Bank of America Donation To Help GTCC Truck Driving Program
Published on: March 24, 2021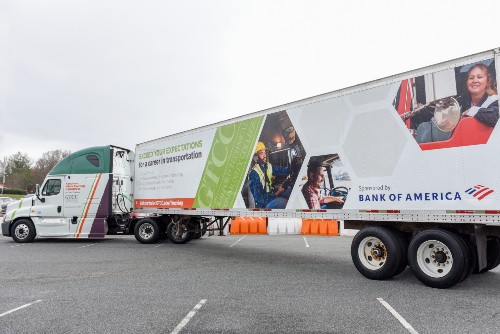 Bank of America recently made a $10,000 donation to GTCC's Truck Driver Training program.
JAMESTOWN, N.C. (March 24, 2021) – Bank of America has joined Guilford Technical Community College's drive to meet the demand for skilled truck drivers in the region.
Bank of America recently made a $10,000 donation to GTCC's Truck Driver Training program, a program which was created last year to help furnish local companies with trained drivers.
"The generous donation from Bank of America and ongoing support of Derek Ellington, the mid-south region executive is much appreciated. This will help GTCC promote the Truck Driver Training program that has already provided employment opportunities for students who complete the course," said Dr. Manuel Dudley, vice president of workforce and continuing education at GTCC.
"Preparing people for a career that is in demand and support from the business community in the form of partnerships are critical to our success. We are grateful that Bank of America is stepping up to partner with this support."
The Bank of America donation will be used to help bring community attention to the GTCC Truck Driver Training program, which will help recruit students to the program and provide opportunity for the unemployed and underemployed to gain a vital skill.
"We have a long-standing commitment to advancing economic mobility, and this partnership with GTCC supports skill-building opportunities for local residents and will create more pathways to employment," said Derek Ellington, Bank of America triad market president. "Our focus on workforce development and investments like these for GTCC's Truck Driver Training program make a positive impact for the people of this community and region."
The GTCC Truck Driver Training program places emphasis on vehicle inspection, defensive driving, range maneuvers, motor carrier's safety regulations, trip planning, cargo handling, size and weight laws, general maintenance procedures, hours of services and vehicle accident prevention.
The U.S. Department of Labor Statistics projects the demand for heavy-duty truckers in North Carolina will increase by 7.7 percent by 2026 with nearly 7,000 job openings annually. As the demand for goods increases, more truck drivers will be needed to keep supply chains moving.
About Guilford Technical Community College: Guilford Technical Community College is the third largest of 58 institutions in the North Carolina Community College System. GTCC serves nearly 35,000 students annually from five campuses and a Small Business Center. Learn more at www.gtcc.edu
About the GTCC Foundation: The GTCC Foundation supports efforts to ensure education excellence through fundraising, advocacy and promoting awareness of the college's positive impact on the community. Founded in 1966, The Foundation oversees more than 200 gift funds that provide critical financial support annually for students and faculty. For more information, visit: https://foundation.gtcc.edu.
###
Back to All Articles