Deafness Hardly A Bump In The Road For GTCC's Bryant As He Works To Become A Diesel Mechanic
Published on: July 21, 2021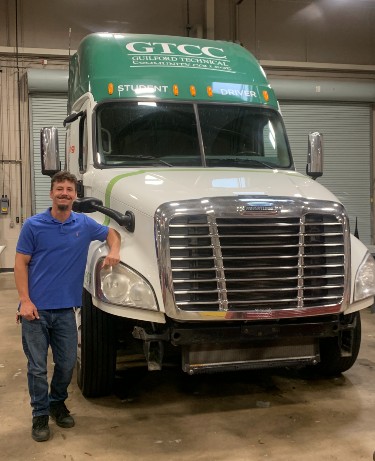 Thirty-Eight year old Bryant, recent GTCC graduate of the diesel mechanic program.
The first thing you notice about David Bryant is his smile. It's big. It exudes joy and happiness. It's a billboard for his personality.
What the smile doesn't show is that Bryant is deaf.
"I've been deaf since birth. Some of my family members are also deaf," Bryant said through an interpreter.
It's the only life he's known, and he has refused to let it erase his joy, or to be a roadblock on his journey.
Want proof?
The 38-year-old Bryant will graduate from Guilford Technical Community College's diesel mechanic program in July. He has already been through several job interviews and should begin work as a diesel mechanic shortly after graduation.
"I always keep fighting to get through what I need to do," said Bryant. I never let myself start thinking 'I can't, I can't do something.' That's not a part of my thoughts. I just see an open door and I'm going through it as fast as possible."
The father of three enrolled in GTCC's diesel program in 2020. He was in sort of a midlife crisis: he felt he needed a change.
"I was really kind of in a dry spell in my life just in general. I thought it was time for me to go back to school," said Bryant. "I was really motivated to find a different career because the job I was at is kind of a dead-end job. It was very monotonous.
"I needed to get into a different environment and learn something new. And I felt it would be great to be here at GTCC and be part of education every day."
Bryant, who grew up in Greensboro, attended the North Carolina School for the Deaf in Morganton until his junior year of high school and then moved to Page High School in Greensboro where in graduated in 2003.
When it came time for Bryant to return to the classroom, he wasn't exactly sure what direction he wanted to take. He loved cars but had never been a hands-on car guy. He said the extent of his car experience had been changing a tire, changing oil, and pumping gas.
"When I grew up, I had no real experience or exposure to mechanical things," said Bryant. "But I have a friend who was talking to me and said, 'you know, people have different things that are their favorite things, art, or different skills,' things like that. But at the same time my friend said 'I notice you always talk about cars and car problems and stuff like that. Why don't you go to school and learn how to fix them yourself and at the same time make a new career out of that.' And I thought 'hey, that's a good idea'."
Bryant was aware of GTCC and its many trade programs. A friend's wife worked at the college, and he picked her brain for more information and decided on the diesel program. And just like that Bryant was back in the classroom after an almost two-decade absence, the first deaf student in the history of the Heavy Equipment Technology program at GTCC.
"At the very beginning, I wasn't scared because I knew that people would help me," said Bryant. "I knew if I broke something or I did something wrong or I didn't know something, I knew there would be somebody to ask. The teacher here, Mr. (Jonathan) Skeen, he is fantastic. He has helped with everything, every little thing with hands-on experiences and step-by-step showing me what to do and giving me that confidence by his leadership."
Skeen, who has been a heavy equipment technology instructor at GTCC for 18 months, but an instructor for over 14 years, admits his he wasn't without trepidation over teaching a deaf student.
"When I was initially notified David was coming into the class, I had some mixed emotions, mostly over how exactly we were going to make it work," said Skeen. "I have had some American sign language training, but not to the extent of being able to communicate with someone alone.
"This program consists of lots of hands-on lab work, which means working in the shop area with 18 other students who have very little experience."
Skeen's concerns were quickly put to rest. Bryant admits it wasn't easy by any stretch of the imagination.
"It was very challenging at first, very challenging because of all the new vocabulary and learning," said Bryant. "I was really in a foreign language almost with all the technical terms and names for different systems of the truck. But I learned as I went through every part of the engine. The diesel program is set up to give you more knowledge and understanding as you go along."
A major key to Bryant's success were his American sign language interpreters. There was always one, and sometimes two, by his side.
"The interpreters help me, but they don't lead me. I have to go through the process like everyone else," said Bryant. "What they are here for is what other people are talking about, what teachers are talking about. They are the hands for those voices, what other people are saying."
There are challenges of being deaf that the interpreters, the instructors can't solve. Challenges that may impact a mechanic more than deaf people in other careers.
"If there is a problem with an engine, you may be able to determine what it is by the noise. A lot of people use the sound to find the problems," said Bryant, who has already earned ASE certification, the gold standard of auto mechanics. "I'm going to have to be more resourceful in using different tools to bring in for testing to check through specific things to narrow down to exactly what is wrong."
When Bryant graduates next month, like most all students, he isn't guaranteed a job. Neither he nor his instructor think that will be a problem.
"Employment was the largest obstacle I saw for David coming in. I work very hard in order to place every student in a job or at least give them an opportunity for employment," said Skeen. "I knew David would be a tough placement, but ultimately, it was not as hard to find David an employment opportunity, because this young man is a hard-working, self-motivated, direction-driven student that is not letting anything stand in the way of his goals."
Back to All Articles