From New York's Finest Eateries, To Cooking for the Celebrities, Al Romano Has Mentored Many
Published on: May 4, 2021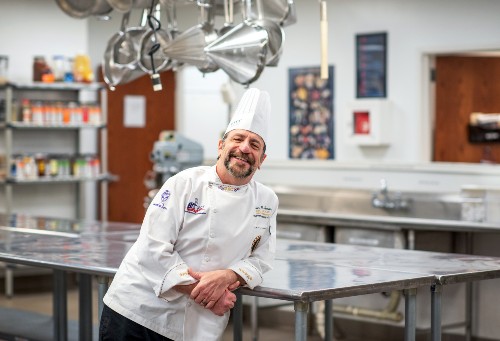 GTCC Culinary Technology Instructor Al Romano
Al Romano has worked at the legendary Tavern on the Green in New York City. He's shown intercity children how to cook healthy meals.
He's traveled in a mobile kitchen and dining car, cooking meals for Olympic athletes on the torch run in 1984.
He has cooked and created ice sculptures for celebrities.
During the pandemic he's taught college students how to make sausage virtually.
By now you probably get it. Al Romano has done many things, many different things that have impacted many lives in a positive fashion.
These days Romano is a culinary technology instructor at GTCC, a post he has held for more than two decades. He's more than an instructor, though. He's a mentor, guiding not only his students, but other young people through life, using cooking as a source of inspiration.
He's pretty good at it all, too.
The American Academy of Chefs (AAC) recently selected him to receive one of its highest honors. He has been named the winner the AAC Sharing Culinary Traditions Award, given annually to an academy fellow who has demonstrated unwavering dedication to the education of future culinarians.
"To get into the academy itself is an honor and to be chosen for this is really big," said Romano, who is one of less than 1,000 chefs in the country who are AAC members. "I asked them how my name even came up for this and they said, 'we looked at all the people and what they do (to help others) and felt you were the most deserving.' To me, it's always been about giving back. I try to carry on our culinary traditions every day."
Giving back has been the mantra of Romano's culinary career. Whether it was as the head of food services of a hospital, or executive chef at a country club or cooking at landmark New York restaurants or teaching in the GTCC culinary program, he's always found a way to help others.
"I've worked over 20 years in the Chef and Child Program working with children doing basic, simple recipes. We show them how to eat healthy, eat better. We show them it's fun to cook, different things to cook," said Romano. "A lot of kids have never tried anything like that. A lot of parents have poor eating habits and it just comes down the line."
Romano works out regularly and tries to maintain a healthy lifestyle. ''You got to practice what you preach'' says Romano who will be turn 60 in May.
One of his first jobs was cooking at the iconic Tavern On The Green, located in New York City's Central Park. He never thought he would leave New York but landed with a large national food services company in 1984 after graduating the Culinary Institute of America. They immediately put him on the road with the Olympic Torch Run, preparing several meals a day with other chefs for the runners carrying the torch across country from New York to Los Angeles for the 1984 games.
He moved south to Virginia in 1990 to run the food services department for a hospital. Not long after that, he became executive chef at Bermuda Run Country Club near Winston-Salem. It was while he was at Bermuda Run that he began teaching at GTCC on a part time basis. A few years later, in 2002, he became a fulltime GTCC instructor.
Romano says during his tenure at GTCC he has worked hard to be innovative and help students remained engaged. The result has been rewarding for students and teacher.
That innovative attitude was in the spotlight a year ago when GTCC was forced to move all instruction online because of COVID-19. Romano was forced to figure a way to teach culinary classes remotely, classes that normally involved intensive amounts of hands-on work.
Putting his years of TV experience giving cooking tips on WGHP-TV to work, Romano created videos for his students to demonstrate the same techniques they would have learned and practiced in class. For his efforts, Romano was presented GTCC's 2020 Teaching Innovation Award by the Board of Trustees.
"I enjoy what I do. I try to mentor young students. Every year I get a different group of students. Some are so passionate and some you wonder why they are there," said Romano, a Bronx native. "I tell them my story. I was a kid who grew up in New York. I didn't have a lot of things the other kids had. But I had a great childhood. I tell them it's not about what you don't have but what you have."
Romano will receive the Sharing Culinary Traditions Award at the AAC National Convention in Orlando later this year.
Back to All Articles