GTCC HVAC apprentices shine at North Carolina State Fair apprenticeship competition
Published on: November 16, 2021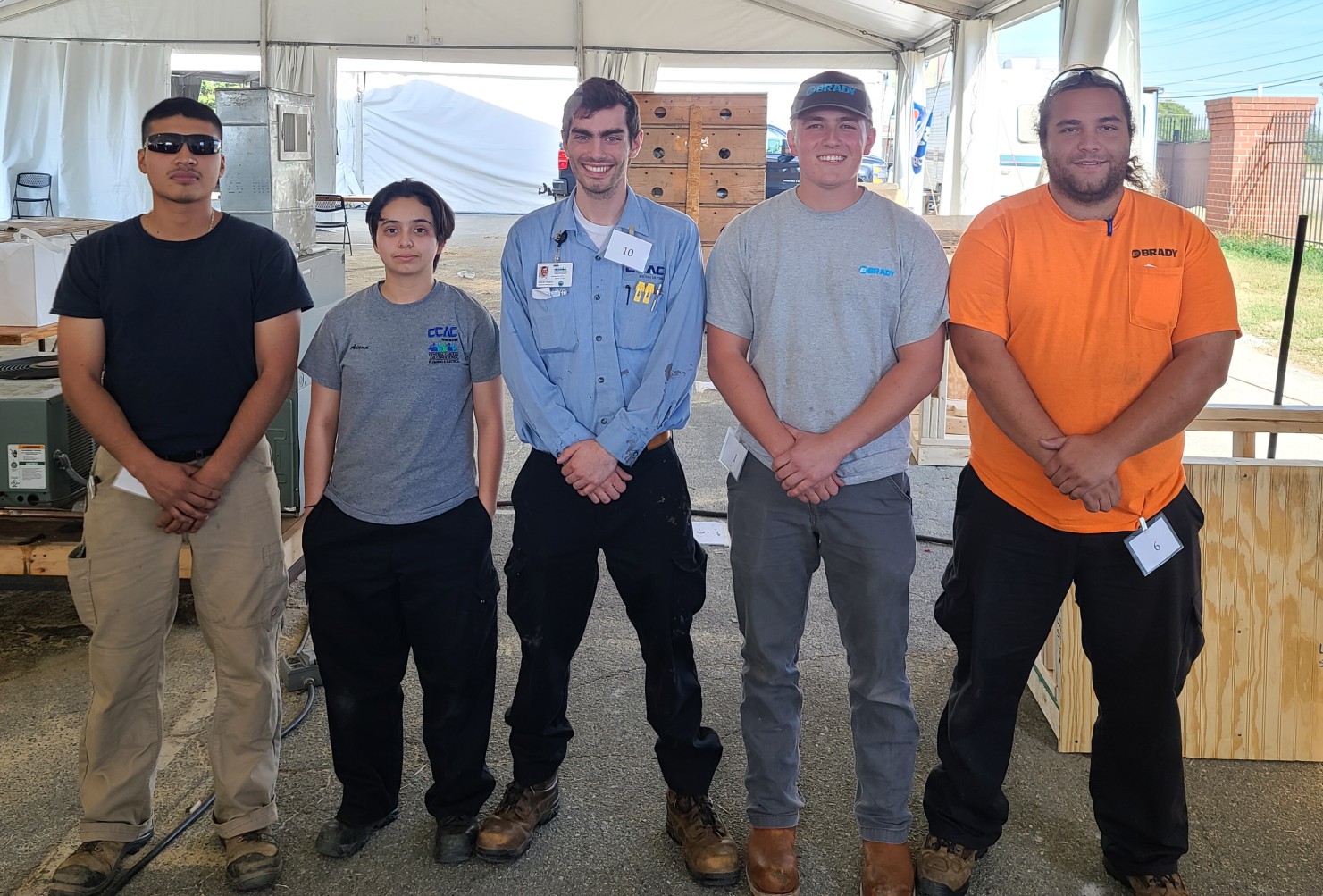 GTCC apprentices who participated in the 2021 North Carolina State Fair Apprentice Contest included Saul Gutierrez-Mariano, Ariana Rosales, Wesley Francis, Aiden McNeill and Michael Bullard.
JAMESTOWN, N.C. (Nov. 16, 2021) - Guilford Technical Community College's Air Conditioning, Heating and Refrigeration apprentices took part in the HVAC-R competition in the recent 2021 North Carolina State Fair Apprentice Contest.
GTCC/Brady Services apprentices Aiden McNeill claimed first place and classmate Michael Bullard placed third in the competition which included safety, troubleshooting, and compliance to North Carolina Mechanical Code.
Rounding out the finishers were GTCC/CCAC's apprentice Wesley Francis, fifth, GTCC/Berico Fuel's apprentice Saul Gutierrez-Mariano, sixth, and GTCC/CCAC's apprentice Ariana Rosales, 10th.
During the competition, competitors rotated through different workstations, including a written exam, brazing/mechanical fitting, refrigerant recovery/evacuation, HVAC unit troubleshooting (electrical), gas furnace trouble shooting, commercial lo-temp refrigeration and hermetic compressor electrical trouble shooting.
All competing apprentices are a part of the Guilford Apprenticeship Partners program (GAP) through GTCC. The GAP program allows for apprentices to work and train in the field while completing their formal education at GTCC. GAP NC GTCC's Air Conditioning, Heating, and Refrigeration Technology program is the first program in N.C. accredited by HVAC Excellence. This goal of this program is to provide a high-quality education for apprentices that will be valued by future employers.
About Guilford Technical Community College: Guilford Technical Community College is the fourth largest of 58 institutions in the North Carolina Community College System. GTCC serves more than 27,000 students annually from five campuses and a Small Business Center. For more information, visit gtcc.edu, Facebook, Twitter, Instagram and LinkedIn. 
Back to All Articles