GTCC Made Sure Immigrant Student Felt Comfortable, Had Resources To Succeed In Classroom
Published on: June 28, 2021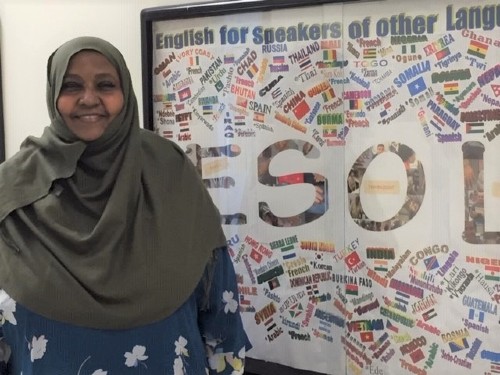 GTCC ESOL Student Igbal Abdelnour
When Igbal Abdelnour immigrated to the United States from the Republic of Sudan three years ago, Guilford Technical Community College served as one gigantic welcome wagon for her. 
She spoke very little English but wanted to become proficient in the language of her new home to become more employable. That meant ESOL (English to Speakers of Other Languages) classes, which required use of technology that was foreign to her. And when the pandemic hit, she didn't have the financial ability to purchase items to work from home. 
That's when the GTCC welcome wagon came rolling into her life. 
"GTCC assisted me by providing me with teachers that always answered my questions by phone or text," said Abdelnour. "GTCC also gave me a Kindle to use instead of my phone and it was so much easier with the bigger screen. Finally, GTCC gave me $500 that I'm using to save so I can buy a laptop in the future." 
Abdelnour's dream of proficiency in English was almost short-circuited by the pandemic and a lack of funds. GTCC staffers weren't about to let that happen. "Without the help of GTCC and the people there, I would have stopped classes this year," said Abdelnour, who received a $500 emergency HEERF grant for adult education students.     
"I decided to go to GTCC to improve my English language because I have only been in the U.S. three years. I enjoyed my face-to-face classes at GTCC, but when COVID started the online classes were new to me," said the 59-year-old Abdelnour. "I didn't know anything about technology, and I only had my phone to attend Zoom classes and Burlington English (an English language learning program). 
"With the help of my best teachers and even my daughters at home I now know a lot more about Zoom and devices. I was comfortable enough to take two online classes since March of 2020." 
Abdelnour's daughters, 15-year-old Alaa and 16-year-old Esraa are both high school students who, she says proudly "are doing very good in high school." 
She is currently taking two online classes: the advanced plus class and the Burlington hybrid class in ESOL. 
Abdelnour has high praise for GTCC's work with immigrant students to help them acclimate to their new lives in the United States. 
"GTCC has helped me and many other immigrants and refugees I know," Abdelnour explained.  "I have nothing to say but 'thank you' for helping me be a better person. I encourage everyone to take classes at GTCC because they will find classes that will help them improve their lives and jobs. 
"I would tell anyone not to hesitate to sign up for classes at GTCC. People are friendly and teachers always want to help you. I arrived in the U.S. three years ago with a funny accent and almost no English. GTCC gave me everything so I can study and hopefully get a job. GTCC gave me a great opportunity and I thank them. Education is the most important thing in life, and you can achieve all your dreams with education." 
The GTCC experience has helped make Abdelnour feel much more comfortable in her new country. It also has broadened her horizons. 
"I want to study more, maybe go to graduate school or get a certificate to get a good job. I plan on taking some transition classes in order to apply for an academic program after I finish with ESOL." 
For more information on GTCC ESOL classes visit, https://www.gtcc.edu/academics/adult-education/esol/.
Back to All Articles