GTCC Second Baseman Layne Overcomes Obstacles To Earn All-Region Defensive Honors, All-NJCAA Academic Honors
Published on: July 6, 2021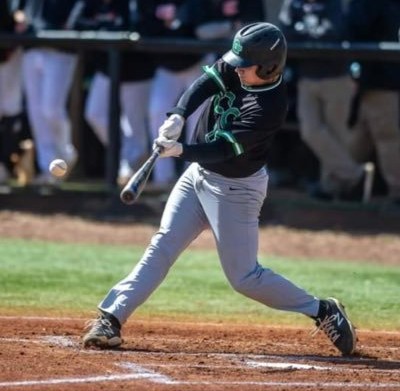 GTCC Second Baseman Daniel Layne
There's bad luck and then there's just plan rotten luck. Put Daniel Layne in that second category.
First, the COVID-19 pandemic wiped out most of his freshman baseball season at Guilford Technical Community College. Then a torn labrum in his shoulder robbed him of summer ball in 2020.
But the Surry Central High School graduate is nothing if not resilient. After a fall and winter of rehab and conditioning Layne was in top form when the Titans opened the 2021 season. By season's end the second baseman had been named to the Region X All-Defensive team. He committed only three errors all season and wound up with a sterling .969 fielding average, tops in the region.
And Layne's accolades don't end there. He maintained a 4.0 grade point average at GTCC and was named to both the Region X and National Junior College Athletic Association all-academic teams.
The key to Layne's exceptional defensive play?
"I don't rush anything. I let the play develop, take my time, and not make a bad throw," said Layne, who started all of GTCC's 29 games this season.
That play in the field, and at the plate where he batted .250 with a .374 on-base percentage, drew the attention of four-year programs. Earlier this summer he committed to attend Concord University, a NCAA Division II college in Athens, West Virginia to continue his academic and athletic careers.
"I'm very excited (about committing to Concord). I've been working to get to the next level for a long time and I finally got the opportunity," said Layne, who plans to major in business with a focus in marketing at Concord.
"I guess the competition will be stronger and I'll have to put more work in to get a chance to play. It's going to be harder in classes, too. I'll just have to work harder there."
Layne is playing for the High Point Locos, an independent summer collegiate baseball team this summer, but at this point a year ago, he had real concerns about his playing future.
"I was up to bat and fouled a pitch off and heard something pop. I swung again and felt the same pop. It started to hurt the next day, so I went to the doctor," said Layne, recalling his early-season injury last summer. "It was a torn labrum."
His season was done, replaced by months of physical therapy.
"Around November or December, I was able to start working back into baseball and was ready to go for the season. I was thinking it could affect my season, but I don't think it did at all."
Titans' coach John Barrow didn't notice anything fall off from the injury, saying his all-star second baseball was as solid as ever.
"He has been a model of consistency the past two season, not only on the field, but also in the classroom where he has maintained a perfect 4.0 GPA and earned Region X and NJCAA All-Academic honors," said Barrow. "He epitomizes what the term student-athlete means. I'm very proud of what he has accomplished here and look forward to watching him continue to grow as a player as well as a person."
Back to All Articles