GTCC Theatre Program Presenting Fun Look At Shakespeare
Published on: March 23, 2021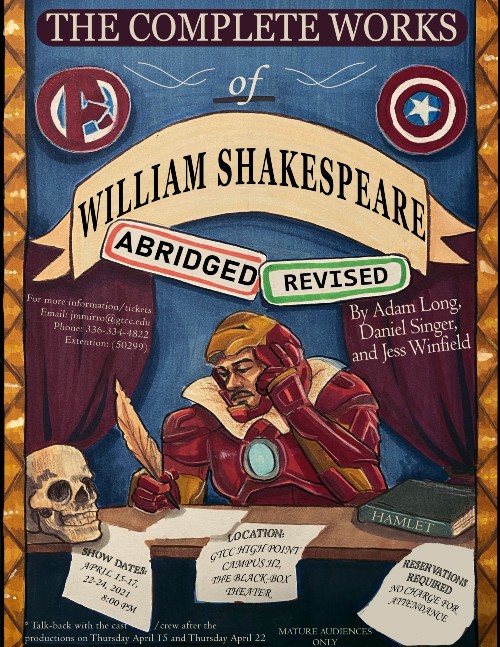 HIGH POINT, N.C. (March 23, 2021) – The Complete Works of William Shakespeare (abridged) [revised] presented by the Guilford Technical Community College theatre program, is Shakespeare like you've never encountered.
The production is a comic romp that parodies the plays of Shakespeare, compressing more than 30 of his stage works into one fun show with a few superheroes thrown in for good measure. The show contains adult content and is recommended for mature audiences only.
"This script is a great gateway for students to learn Shakespeare, and it allows for flexibility in production concept," said Julya Mirro, lead instructor for the GTCC theatre program. "We've added an overlay of Marvel characters (from the Avengers MCU), which enhances its relevance to this time and space with the explosion of comic book films and TV shows."
The production is scheduled for April 15-17 and April 22-24 at 8 p.m. each evening at the Black Box Theater on GTCC's High Point Campus, Building H-2.
There is no admission charge, but due to COVID-19 regulations reservations are required on a first come, first served basis with limited seating. Reservations may be made by emailing jmmirro@gtcc.edu or calling (336) 334-4822, Ext. 50299.
About Guilford Technical Community College: Guilford Technical Community College is the third largest of 58 institutions in the North Carolina Community College System. GTCC serves nearly 35,000 students annually from five campuses and a Small Business Center. Learn more at www.gtcc.edu.
###
Back to All Articles