GTCC Truck Driving Training Program 'Life-Changing' For Former Chef
Published on: February 4, 2021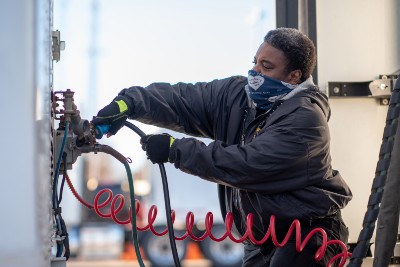 GTCC Truck Driver Training graduate Troy Singley.
Troy Singley had been a chef for many years. But when his restaurant job disappeared last spring as the COVID-19 pandemic began to rage, he was at a crossroads.
The 55-year-old New Jersey native knew he needed to find a more storm proof-career and he began to explore the options. A new Guilford Technical Community College program caught his eye and it put him on the road to a new livelihood, both figuratively and literally.
GTCC began a Truck Driving Training program in October of 2020. Singley was a member of that first class. After two months of five-day-a-week, intensive instruction, Singley and 11 classmates earned their Class A Commercial License (CDL).
"A friend of mine suggested truck-driving school. There are two ways to get trained; you can get on with a company, they train you and you obligate to them for a year or more or you can take classes at a vocational school," said Singley. "I checked to see if GTCC had one, and with the help of North Carolina Works, I was able to start in October."
Singley had almost zero experience driving a truck, much less a tractor trailer.
"I had driven a dump truck in the military and that was about it," he said. "Big-rig driving is very intimidating. You have to have a lot of confidence."
Singley discovered that rubber meets the road quickly in the GTCC Truck Driving Training program.
"Driving is my strength. I like to drive. In this program you don't have any choice but to step up to the plate," said Singley, who had worked as a chef since 1981. "You've got to find that confidence, dig deep inside. That's what we came here for. The program puts you right there in the fire."
The classes were 8 to 5, five days a week. It started with a homeroom gathering at 8 a.m. and then from 8:30 a.m. to 2:30 p.m. was spent on the road or the range driving followed by two hours of classroom work from 3 to 5 p.m.
Classroom time was spent learning and reviewing regulations and laws and how to maintain a logbook among other things. When not on the road, students were on the range learning to back the big rigs, how to couple and uncouple the trailer and how to do a formal inspection of the vehicle.
"Any school, any trade comes with challenges. Even cooking came with a challenge when you have to learn all the ratios and measurements. It's the same with truck driving. There are a lot of regulations and laws to learn. You have to learn shifting gears, that you can only shift at certain speeds. You have to make sure the RPMs are right, the speed is right, that you're clutching right," said Singley.
"If you're in traffic, you don't have a lot of time to figure it out."
Completing the class and earning a CDL has been "life changing" for Singley. He's been out of work since March 2020; "the food industry is suffering," he said. And now he is employed full time as a driver for Carolina Container. It's a job that keeps him close to home, which is very important to Singley, who has strong ties to the community.
"I've been working with a homeless ministry for three years. I did street ministry for two-and-a-half years where I lived among the homeless," said Singley. "It was rewarding and difficult. Living in shelters and on the street has it challenges. I feel like I help people that are lost."
Singley said it was a challenging couple of months at GTCC, but in the end, the reward was well worth the time and effort.
"The instructors were very firm, but they have to be firm. Driving a tractor trailer is something very serious, and they have to make sure you have a lot of discipline in your driving," said Singley. "But I think a lot of students responded pretty well because that's what they came here."
For more information on the GTCC Trucking Driver Training program, visit https://www.gtcc.edu/academics/academic-programs/programs/workforce-development-corporate-training/occupational-training/commercial-drivers-license-training.php.
Back to All Articles