GTCC helped Josh Hudson build the foundation for his own automotive success story
Published on: November 2, 2021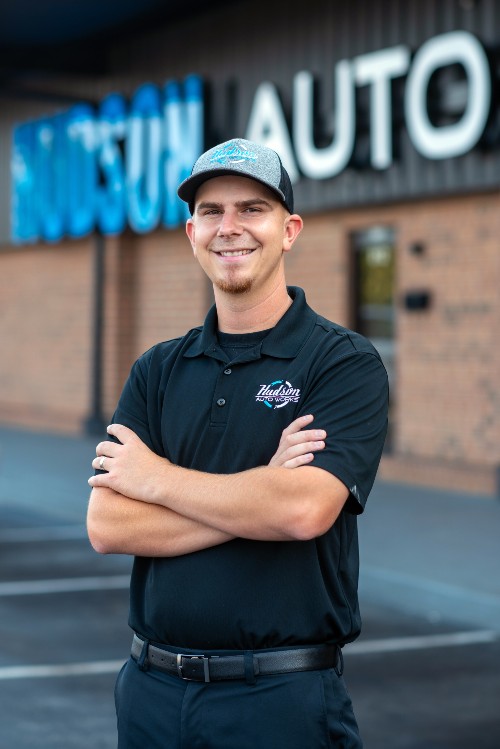 Less than a decade after graduating from GTCC, Josh Hudson has two top-rated businesses in Greensboro.
Josh Hudson obviously has a knack for business. He's 28 years old and owns an automotive center with 28 employees in a 15,000-square-foot facility. He will soon open a second location, immediately adding another dozen or so employees in the process.
His best business decision ever?
Well, it doesn't even directly involve Hudson Auto Works, the Greensboro company he built from the ground up in less than a decade.
"I was accepted at Western Carolina University out of high school for electrical engineering. I started looking at it closely, and the debt-to-income ratio just didn't make sense," explained Hudson.
"I went to Guilford Technical Community College. At the time it was $5,500, and I got a loan for that. I can only tell you it's the best $5,500 I've ever spent!"
Hudson has always loved cars. It is a passion passed down from his grandfather and father. Around the time he was hit with the sticker shock of a four-year education, he had the realization he wanted to embrace his love of cars.
When Hudson graduated from GTCC's Collision Repair and Refinishing Technology Program in 2012, he went to work for a new-car dealership in the Greensboro area, working in the body shop. Four years later, he started his own business, humbly, in a 2,500-square-foot garage attached to the back of a mechanic shop.
After six months, Hudson was able to make the leap into his fledgling business fulltime. It wasn't always easy, though.
"When I started the business, I was 22, and yes, my age was tough in the beginning. When you go out to get new accounts, to get them to buy into my dream, it was difficult," said Hudson. "I was young to them. I asked them to just give me one chance, and that's what I've lived off my whole career.
"It was very challenging, but in anything, regardless of your age, you only have one chance with folks. I think when you are passionate, it pours out of you and people are impacted by that."
Hudson figures his "knack" for business came from following his father around when he was younger. His dad worked for Tyco in Greensboro but opened an upholstery business later in life, and Hudson was like a second shadow to him as he went about his work.
"I always went everywhere with my dad. My dad was my hero, my best friend in the entire world," said Hudson. "I was always around him when he did business. I don't know if that's why, but sometimes people are gifted with talents, and I think I was gifted with a natural talent of understanding business."
Early on, Hudson said he leaned heavily on his parent's CPA, "He told me to go buy a blue accounting book. He taught me how to log everything manually, profit and loss, balance sheets, journal entries, everything. But it was on such a small scale then, it was easy to learn."
Those lessons laid the groundwork for his steadily growing business.
"Fast forward to now, and I know what's right and wrong on a massive scale.  I think a lot of folks talk themselves out of business. You are going to make mistakes. It's OK to make mistakes, but you must learn from it. When a mistake costs you, you learn from it. That's what you call a valuable lesson."
Hudson Auto Works began as a collision repair shop, and used car sales. In a recent Reader's Choice poll by the Greensboro News & Record, Hudson garnered top honors as the area's best body shop and best used car dealer.
There is a major expansion on the near horizon. Just a few blocks from the original Post Street location, another 15,000-square-foot building is being refurbished to house a service center, a second detailing shop and a large indoor auto sales area, primarily for upscale and classic cars.
Most of Hudson's workdays now are filled with management and business decisions. He does make sure he spends time on the shop floor every day and occasionally sneaks back in to keep his body repair skills honed.
"I like to come in very early on a Saturday or Sunday, just me in the shop. I might do something in the process of fixing a car or painting. I'm a hands-on guy, so management is something I have to work very hard at."
Hudson says he never forgets his roots and those who had faith in his venture and urged him along. GTCC is a big part of that.
"I think every house is built on a foundation. A lot of mine came before GTCC, but I met a lot of people from there that helped me so much. My instructor helped me get my first job, and we've hired a lot of students from GTCC," said Hudson, who presently employs seven GTCC graduates.
"You can't build anything without a great team. You have to learn how to manage people and have them buy into your dream."
Back to All Articles