New Women's Basketball Coach Erica Handy Bringing New Life To GTCC Program
Published on: June 9, 2021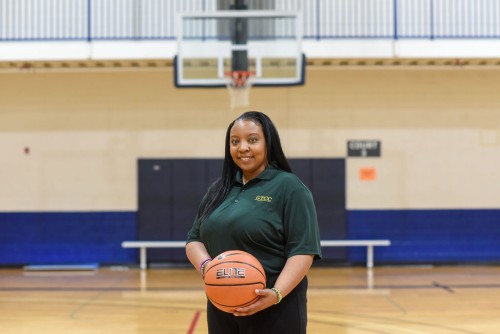 New GTCC Women's Basketball Coach Erica Handy
JAMESTOWN, N.C. (June 10, 2021) – Erica Handy knows she faces quite the challenge as the new women's basketball coach at Guilford Technical Community College.
But she is totally undeterred, which pretty much describes the way she attacks life and basketball.
"I'm going to try to build a successful community college basketball program that everyone will know about," said Handy. "I want to represent with respect. I want people to say they want to be part of GTCC's women's basketball program.
"This is all very exciting for me. I've never been a head coach at the college level. I really enjoy the college level. It (college coaching) has always been on my mind."
Perhaps Handy's biggest challenge is reinventing the GTCC women's program. The program was disbanded two seasons ago and restarted with Handy's hiring. Secondly among Handy's challenges is the way the pandemic impacted high school basketball. Outsiders were not allowed at high school games, hampering face-to-face recruiting.
"We have to start by building a foundation. We have to get players in. We have to get a system going and build an environment people can trust," said Handy. "We have started recruiting, but COVID has made it more difficult with only a certain number of people allowed at games and the limited contact you can have with someone."
When it comes to recruiting in North Carolina, Handy will not be viewed as a stranger. She was an assistant coach at North Carolina A&T for five years and was part of three conference championship teams with the Aggies.
"I'm already looking at scouting resources because I'm not new, coaches know me from NC A&T, so they are letting me know they have players," said Handy, who also coached high school basketball at Cornerstone Academy in Greensboro. She also coached two seasons of semi-pro women's basketball.
GTCC Athletic Director Kirk Chandler believes Handy is a great fit for the program.
"We're really happy that Erica is joining us at GTCC. Her college coaching experience and overall knowledge of the game is going to be a big plus to the program," said Chandler.  "Erica knows what it takes, and she has been busy since day one."
GTCC teams participate in the National Junior College Athletic Association. Handy has a good understanding of that level of competition. She played for a conference championship team at Montgomery College, a junior college in Maryland, during her college career.
"I've been a player at the junior college level. I know the experience is going to be different," said Handy, who received an associate degree from Montgomery College, an undergraduate degree from NC A&T, and a master's degree from South University. "I want to build a program that has a collective spirit, goes out, fights, and enjoys competing every day. I enjoy the challenges and I enjoy the process of building a team."
One thing is certain, Titan fans can expect lots of defense and up-tempo play from Handy's team.
"I'm a defensive coach. I feel like that should be first. Discipline. Having focus and sound fundamentals. That's my style," said Handy. "Defense opens up a lot on offense. Offensively, I like an attack style. I think if we're energized on defense, it will create offense."
About Guilford Technical Community College: Guilford Technical Community College is the fourth largest of 58 institutions in the North Carolina Community College System. GTCC serves more than 27,000 students annually from five campuses and a Small Business Center. For more information, visit gtcc.edu, Facebook, Twitter, Instagram and LinkedIn.
###
Back to All Articles