Opportunities Opened For Elkins After Finishing GTCC Aviation Manufacturing Quick Careers Program
Published on: March 22, 2021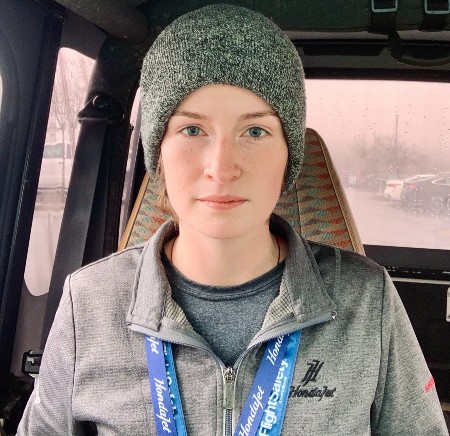 From shooting rivets to working on jets, aviation structures assembly course paid off for Adra Elkins
When Adra Elkins finished the AMQCP structural assembly program at Guilford Technical Community College in 2017, a huge door opened for her.
She was immediately hired by Honda Aircraft Company in Greensboro to work in its production facility. It was a basic job, but it was a step forward in a career in aviation. Fast forward to 2021 and Elkins has worked her way up the ladder at Honda Aircraft Company, where she is performing maintenance on smaller jets.
She is also back in the classroom at GTCC, working to complete an associate degree so she can move on to a four-year program and eventually qualify for an aircraft powerplant and airframe certification, a certification by the federal government that would allow her to work on any type of airplane.
"The (AMQCP structural assembly) program at GTCC teaches you the basic principles you need to know about aircraft, learning how to drill and how to shoot rivets and things like that," said Elkins. "Once I finished that program, I was able to get a job at Honda. This program helps you get a job and then you learn and work your way up."
Elkins said when she started with Honda Aircraft in July of 2017, she did basic structural work.
"I started in the production facility where (the plane) doesn't have wings on it, working on it, slowly piecing the plane together. As I got more experience, I started working on electronics and hydraulics," the 25-year-old Elkins said.
Elkins remembers being "overwhelmed and excited" when she enrolled in her first aviation classes in 2017, but believes it was the right thing at the right time for her,
"When I went to work, I felt like (the class) had me prepared. There are so many different things in production to do. If you are someone who has never drilled a hole through wood or composite, this program is what you need," said Elkins. "There is a lot of good information if you were from outside of aviation.
"If you can work somewhere like a production facility, you could work at Boeing. I actually had friends in this class that do work at Boeing. There are definitely opportunities out there. This (program) is a great step in the right direction."
The next AMQCP structures assembly course commences May 10, course code AVI-3009-B04. Registration and more information may be found at gtcc.edu/structuresassembly. The next AMQCP composite course begins April 26, course code MEC-3187-B01.  For more information on registration and more, visit gtcc.edu/compositetechnology .
For additional information, contact the program coordinator, Tony Turner (336) 334-4822 ext. 59024 or/ email at laturner@gtcc.edu.
Back to All Articles