Patrick Camden Able To Fuel His Passion Through Ford ASSET Program At GTCC
Published on: September 13, 2021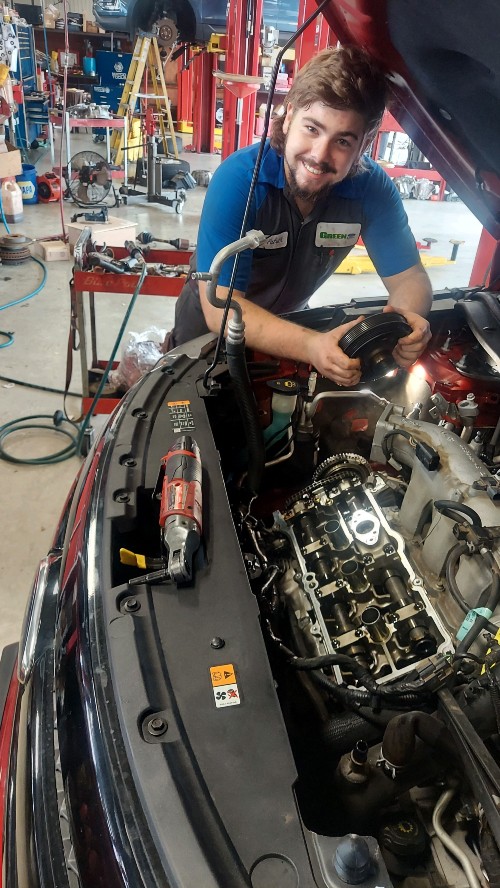 Ford Automotive Student Service Educational Training (ASSET) student Patrick Camden
Since he was a small child, Patrick Camden has always loved to take things apart and put them back together.
Now, as a 19-year-old second-year student at Guilford Technical Community College, he's getting paid to do it.
Camden is part of the Ford Automotive Student Service Educational Training (ASSET) program, a partnership between GTCC, Ford Motor Company and Ford/Lincoln Dealerships, which offers work-based training in a dealership, earning college credit and a salary along with on-campus instruction.
GTCC offers the only FORD ASSET program in North Carolina.
 "I was thinking in high school about going to community college, getting some sort of degree, but I really didn't have any idea. Then a teacher told me about this, and I thought 'I can actually do this'," said Camden.
"I've always been into cars, trucks, vehicles in general. I've always tinkered around, taken things apart and put them back together, so this is perfect for me."
Camden is a 2020 graduate of Northern Guilford High School, but on the advice of a guidance counselor applied and was accepted into the basic automotive program at Weaver Academy for Performing and Visual Arts and Advanced Technologies. He took classes from Ray Dove at Weaver Academy for two years, and it was Dove who urged him to enter the Ford ASSET Program.
It is a two-year program that offers detailed instruction and hands-on experience with Ford and Lincoln brake systems, electrical systems, engine performance, engine repair, suspension and steering, automatic and manual transmissions and drive trains, and climate control systems.
A student must be sponsored by a qualified Ford or Lincoln dealership before becoming involved in the Ford ASSET Program. Camden's on-the-job training is coming from Green Ford in Greensboro, through the North Carolina Apprenticeship Program which covers his school tuition. He is considered a parttime employee at Green Ford and is paid an hourly rate.
The program is divided between the classroom and hands-on work at a dealership. The first semester students spend about 10 weeks in school and five weeks at the dealership. Time is split fairly evenly between the two after that.
"I learn a whole lot at school. When I'm at work I can say 'I've seen this at school,' or when I'm at school I can say 'I've seen this at work'," said Camden.
When Camden finishes the program he will have Ford certifications in several areas, including electrical, suspension, steering, engine, transmission, diesel, and HVAC.
Camden, who recently began his second year in the program, says he's already worked on most everything from bumper to bumper.
"We've worked on brakes, tires, put engines together, worked on transmissions and differentials, electrical systems. I've been working with the best guys in the shop. Right now, I'm working on engines, but we have to work on everything. I prefer that I'll be able to do anything, but I'll probably end up doing engines."
And Camden explained that unlike some programs, there's no busy work involved in the ASSET program.
"I'm doing 10 to 12-hour jobs now by myself," he said. "I've got people checking on me … I'm not totally on my own."
And unlike some similar programs, Camden will not be contractually tied to Green Ford when he graduates, but that doesn't mean he's going anywhere soon.
"I have no reason to leave. They have treated me really good. They have helped me learn, let me learn. I have no reason to move anywhere else."
It is an experience that Camden would suggest to anyone in high school that may be interested.
"I would absolutely recommend this, especially if you like a certain brand," said Camden, who just happens to have a Ford Ranger pickup. "I love Fords. I love working with somebody that knows what they are doing. And instead of spending 10 years getting certification, I'm getting paid for getting it now."
For more information on the FORD ASSET program, visit gtcc.edu/academics/academic-programs/programs/manufacturing-transportation-construction/ford-asset-program.php.
Back to All Articles