Savage Was Able To Concentrate On Classroom After GTCC Helped Solve Financial Puzzle
Published on: June 9, 2021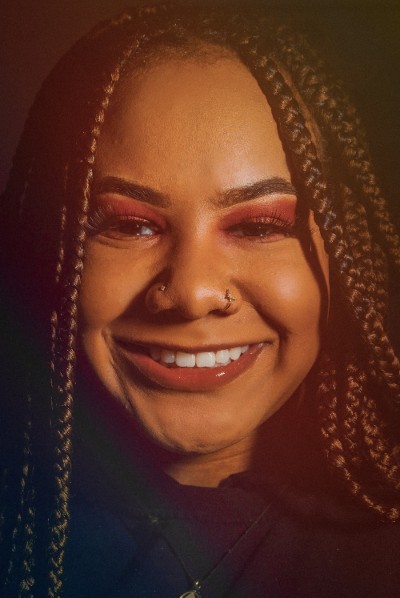 GTCC '21 Graduate, Harmony Savage
Harmony Savage was in a quandary. She was an unhappy student at a four-year college and was looking for a new educational beginning.
She turned to Guilford Technical Community College and she has never regretted it. The college provided her a path forward, and with the help of the vast assortment of financial aid available, also helped her cover the cost.
"I was a transfer from another college. I did not like the school and wanted a fresh start," said Savage, who graduated from GTCC this spring. "GTCC was able to help me financially, especially my last semester."
Savage took advantage of a Titan Link grant her final semester, which helped cover transportation and school supplies for her graphic design class. Titan Link is a program that provides GTCC students with resources and information in difficult situations.
Savage also received financial aid in the form of a CARES grant, part of the Coronavirus Aid, Relief, and Economic Security Act (CARES) along with a traditional Pell Grant. She also was the recipient of several scholarships.
"GTCC always has multiple opportunities for students to go to school at a low cost, unlike other colleges," said Savage. "There is always a GTCC staff member who is willing to help you go to school without having to worry about the cost."
With the financial puzzle put together, Savage was able to concentrate on her degree in graphic design. And with the pandemic at its peak during her final year, it was good to put education in front of mind and not have to worry about finances.
"The learning curve took a turn for me because I was not used to being strictly online," said Savage, who found time to serve as the Student Government Association's vice president of special events. "I personally ended up loving it even though it took a couple of trials and errors. It was difficult being the VP of special events, but I made that work, too."
Savage, who will be headed to the University of North Carolina Charlotte in the fall, said the GTCC staff even helped chart her future post-graduation.
"I couldn't figure out what university to go to, but GTCC helped me out with that, too."
As she heads to the next step in her educational journey, Savage said she'll never forget her GTCC experience.
"I do not regret coming to GTCC," said Savage. "I have met amazing people who have helped shape who I am, and my character, and now I am ready to move forward to the next chapter in life."
Back to All Articles