Sky Aviation Holdings Donates Two Jets Valued At More Than $350,000 To GTCC Foundation
Published on: June 16, 2021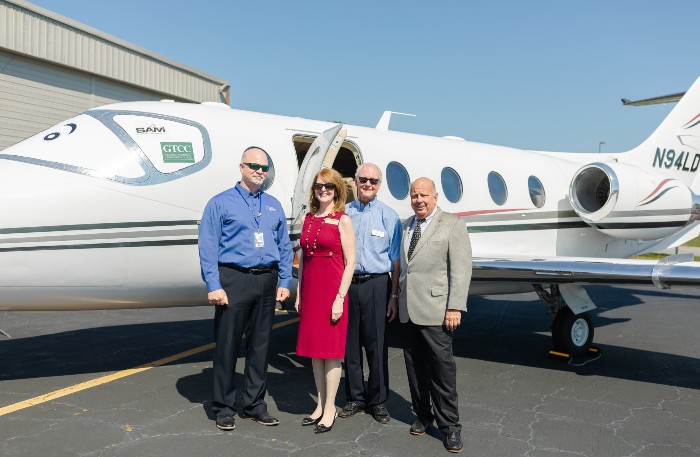 GTCC Director of Aviation Programs Nick Yale, GTCC Senior Vice President of Instruction Beth Pitonzo, GTCC Trustee David Miller, President of Sky Aviation Holdings Tom Conlan
JAMESTOWN, N.C. (June 16, 2021) – Sky Aviation Holdings donated two aircraft valued at more than $350,000 to the Guilford Technical Community College Foundation Tuesday to be used in the college's aviation programs.
The GTCC Foundation was presented with a 1984 Diamond IA A073SA jet with fully functioning engines and avionics and the fuselage of Diamond jet with a fully working avionics package. Both planes are decommissioned and cannot be used in flight.
The Sky Aviation donation will serve to bolster an already robust GTCC aviation program, helping to better train current students and aid in the recruitment of new students to the program.
"This is a remarkable gift from Sky Aviation. It will give our students a better hands-on experience in their aviation education," said Dr. Anthony Clarke, president of GTCC. "We are extremely grateful for this donation that will be vitally important to our aviation students and help them become better prepared for the workforce."
Sky Aviation Holdings, based in Pompano Beach, Florida, is a global leader in the sale of luxury and corporate private jet sales. Sky Aviation opened an affiliate company, Sky Aircraft Maintenance at the Davidson County Airport last fall. The full-service aircraft maintenance operation specializes in Beechjet, Learjet, and Hawker Aircraft with service to jet engines and aircraft interior completions.
"Sky Aviation Holdings on behalf of our subsidiary, Sky Aircraft Maintenance, is pleased to be able to make the donation of these two jets," said Tom Conlan, president of Sky Aviation Holdings, adding that his companies have developed a strong relationship with GTCC since establishing their Davidson County facility.
"We have had the pleasure of having up to seven students from the GTCC A&P and avionics school, working with our management team, receiving on the job training, working on jet aircraft.
"We are firm believers in technical schools, providing training that allows students to graduate with specific skill sets that the aviation industry needs. We also passionately believe that this collaboration is beneficial as much to the students as it is to our company. In addition, we believe that the local communities involved also receive a tremendous benefit by keeping bright, ambitious, hardworking young people to continue to reside in the surrounding towns they grew up in."
Colin Dolby, a graduate of GTCC's aviation program and current Sky Aircraft Maintenance employee, understands the value of the donation.
"This donation means a lot to me knowing that the next generation of mechanics will get hands-on experience that will easily transfer to working in this industry," said Dolby. "Working with Sky Aircraft Maintenance has been a great opportunity. Working for a local company like this, you get more personal training and access to leaders and experts."
The two planes will used in GTCC's Aviation Systems Technology Program which provides students the knowledge and skills to qualify for an aircraft mechanic's certificate with airframe and/or powerplant ratings.
About the GTCC Foundation:
The GTCC Foundation supports efforts to ensure education excellence through fundraising, advocacy and promoting awareness of the college's positive impact on the community. Founded in 1966, The Foundation oversees more than 200 gift funds that provide critical financial support annually for students and faculty. For more information, visit: https://foundation.gtcc.edu.
###
Back to All Articles