TriStar May Have Different Look This Year But Stars Still Shine
Published on: February 25, 2021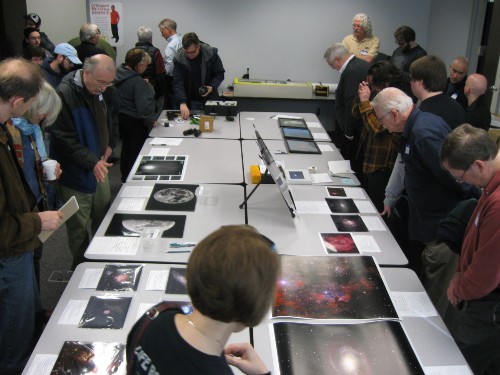 JAMESTOWN, N.C. (February 25, 2021) –The 21st edition of TriStar will be a little different, but as has been the case for the past 20 years, the stars will remain the star of the show.
TriStar – short for Triad Starfest – is the annual and free event hosted by Guilford Technical Community College's Cline Observatory in partnership with the Greensboro Astronomy Club that brings astronomy enthusiasts together the first Saturday in March.
This year, because of the COVID-19 pandemic, TriStar will be held virtually on March 6 with a series of speakers scheduled throughout the day. The Greensboro Astronomy Club will also hold a virtual astrophotography display/contest.
Presentation topics for this year's TriStar will include: a history of the exploration of the moon; OSIRIS-REx mission update; the ocean worlds of the outer solar system; and the impact of satellite constellations on astronomy.
TriStar will kick off at 9 a.m. on March 6 with a presentation on satellite mega-constellations and the night sky by James Lowenthal, professor of astronomy at Smith College. The presentation will address concerns of astronomers that the over-abundance of satellites may adversely impact major research programs.
Jonathan Ward, president of the Greensboro Astronomy Club, will take a look at lunar exploration in his 10:15 a.m. presentation followed by an 11:30 a.m. update on the OSIRIS-REx mission by Mike Puzio. Puzio is a 16-year-old Triad high school student and an ambassador of the OSIRIS-REx mission, which was a mission to a remote asteroid.
At 1 p.m. Dr. Katie Mack, a theoretical astrophysicist and assistant professor of physics at North Carolina State University, will discuss the physics at the end of the universe. Wrapping the event at 2:30 p.m. Mike Malaska will talk on the search for life in the ocean worlds of our solar system. Malaska is a scientist in the planetary ices group at NASA/Jet Propulsion Laboratory.
For more information on Tri-Star or to view the event live March 6, visit: https://www.gtcc.edu/community-engagement/cline-observatory/special-lectures-and-events/tristar.php.
About Guilford Technical Community College: Guilford Technical Community College is the third largest of 58 institutions in the North Carolina Community College System. GTCC serves nearly 35,000 students annually from five campuses and a Small Business Center. Learn more at www.gtcc.edu.
###
Back to All Articles