Two North Carolina state legislators get in-depth look at several Guilford Technical Community College programs
Published on: December 8, 2021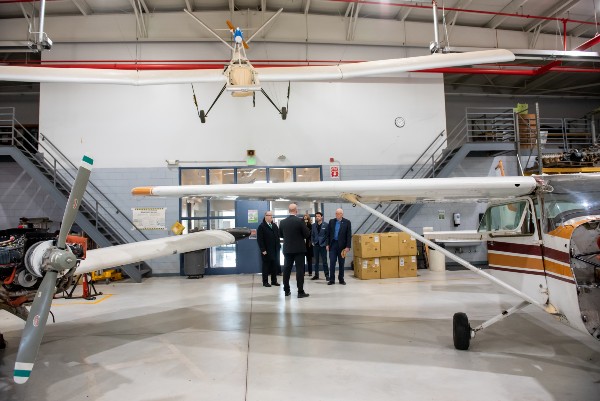 Director of GTCC Aviation programs, Nick Yale showcases the Greensboro-based GTCC aviation campus to State Rep. Jon Hardister and State Rep. John Faircloth.
JAMESTOWN, N.C. (Dec. 8, 2021) – Two members of the North Carolina House of Representatives spent Monday morning learning about several Guilford Technical Community College programs during a tour of the college.
GTCC President Anthony Clarke, Ph.D, and GTCC Senior Vice President of Instruction Beth Pitonzo, Ph.D, led State Rep. Jon Hardister (R-Guilford) and State Rep. John Faircloth (R-Guilford) on a tour of the Aviation Campus, the Center for Advanced Manufacturing (CADM), and the Medlin Campus Center.
"Representatives Hardister and Faircloth are passionate supporters of GTCC, and it is a pleasure anytime that I can give them an up-close look at what we have going on here," said Clarke. "It's very important that we keep our legislators informed of the many exciting things we have happening at GTCC and the positive impact it is having on our community."
The two state legislators began their tour at the Aviation Campus with an overview of the aviation program and then visited the CADM where they were updated on the machining, diesel and heavy equipment and welding programs. They also visited the recently renovated Medlin Campus Center.
About Guilford Technical Community College: Guilford Technical Community College is the fourth largest of 58 institutions in the North Carolina Community College System. GTCC serves nearly 28,000 students annually from five campuses and a Small Business Center. Learn more at www.gtcc.edu.
Back to All Articles