Dedication, diligence earn pair of instructors January co-employees of the month
Published on: February 17, 2022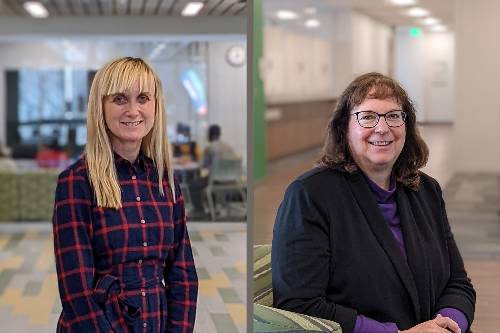 January 2022 GTCC Employee of the Month Amanda Melniczek (left) and Mary Wilkinson.
Instructors Amanda Melniczek and Mary Wilkinson may teach different subjects, but they share a commitment to supporting Guilford Technical Community College beyond the classroom.
Their diligence and dedication to GTCC and its students and staff have earned them the honor of being named the college's co-employees of the month for January. It is the first time the Employee of the Month Committee vote has ended in a tie.
Wilkinson created a course schedule for her health occupations department for all three campus locations, finding adjunct faculty to support the required courses to fill needed nursing assistants and medication aides during the pandemic. She often helped adjuncts with evening classes after teaching a full eight hours during the day. She was vigilant in making sure the new adjuncts followed all regulatory guidelines and were comfortable with arrangements for instruction.
Wilkinson volunteered at least once a month to be the GTCC faculty representative during Saturday state testing on campus, providing students with support during these 12-hour days.
"We have had many healthcare heroes during this pandemic period," said Wilkinson's nominator. "Mary trains heroes."
Melniczek, a communications instructor, was the driving force behind the creation of a 352-page comprehensive resource manual for GTCC faculty members.
The project was expected to be "quick and easy" said Melniczek's nominator, who worked with her on the task. "As these things often do, the project expanded."
Melniczek helped collect all available resources that have been used over the years to help new faculty members, both adjuncts and full time, as they started their careers. She researched what faculty would like to know as they start teaching and what various departments had available to help answer faculty questions and in the process helped uncover material that no one else knew about.
As if she wasn't busy enough, she also revived a GTCC tradition of donating food baskets at Thanksgiving, creating a competition between divisions within the college to collect food for the baskets in a fun way.
"She did this simply because she is a dedicated teacher who is willing to help and support other teachers in any way she can," said Melniczek's nominator. "Amanda's enthusiasm and love for teaching enriches this college in so many ways and I would like to have her selfless work recognized and appreciated."
Back to All Articles