Guilford Technical Community College honors 1,577 graduates in 56th annual commencement exercise
Published on: May 12, 2022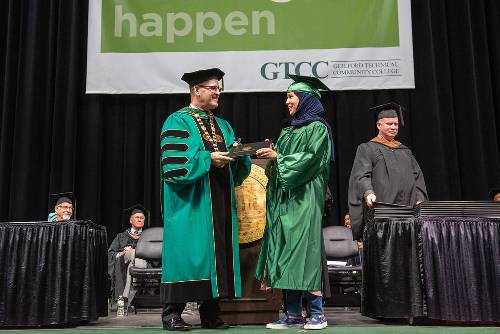 GTCC President Anthony Clarke, Ph.D. congratulating a GTCC student from the 11 a.m. commencement ceremony.
JAMESTOWN, N.C. (May 12, 2022) – Guilford Technical Community College celebrated the graduation of 1,577 students in the college's 56th annual commencement exercise on Thursday, May 12, at the Greensboro Coliseum.
In his message to graduates, GTCC President Anthony Clarke, Ph.D., urged members of the class of 2022 to reflect on their hard work and accomplishments at GTCC as they get ready to embark on the next chapter in their lives.
"Your graduation today is a product of much hard work and perseverance. Your achievements over the past two years should be a source of great pride for you," Clarke said. "As you head out into your next step in life continue with that hard work and perseverance, and you will continue to make amazing happen."
The 1,577 GTCC graduates encompassed a broad spectrum of the college's curricula, including adult high school diploma, high school equivalency, certificates, diplomas, associate in general education nursing, associate in arts, associate in engineering, associate in fine arts, associate in general education and associate in science.
Kim Simon, a GTCC graduate and vice president CRA and fair lending program manager at Carter Bank & Trust, was the commencement speaker, sharing the value of her GTCC education with the graduates.
"Own your career and your responsibility," Simon said. "Don't stop learning. Be willing to pivot during your career journey and don't ever underestimate the value of mentorship in the various seasons of your life."
In addition to the graduation ceremony, students and staff were recognized for achievements during the 2021-2022 school year. Cameron McClellan received the North Carolina Community College System Academic Excellence Award which is awarded to one student at each of the 58 community colleges across the state.
Anna Conklin and Kayla Johnston received the Academic Excellence Award, and the Outstanding Diploma Graduate Award went to Ivan Pechtel.
The Board of Trustees Teaching Innovation Award was presented to Patricia Drummond, visual arts instructor.
About Guilford Technical Community College: Guilford Technical Community College is the fourth largest of 58 institutions in the North Carolina Community College System. GTCC serves more than 27,000 students annually from five campuses and a Small Business Center. For more information, visit gtcc.edu, Facebook, Twitter, Instagram and LinkedIn.
Back to All Articles