Guilford Technical Community College students shine in SkillsUSA state competition
Published on: May 11, 2022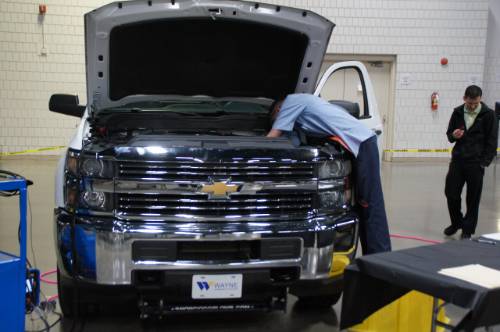 GTCC high school student Trevor Pretory participating in the Automotive Service Technology category. Pretory came in first and is the only contestant that received a perfect score on at this station.
JAMESTOWN, N.C. (May 11, 2022) – Guilford Technical Community College students captured 17 first-place awards and nine second-place awards in the SkillsUSA North Carolina state competition held recently.
In total, GTCC had 39 top-five finishers across 18 areas of competition, including taking all of the top-five spots in the criminal justice category.
SkillsUSA is a national nonprofit organization serving teachers, middle school, high school, and college students who are preparing for careers in trade, technical and skilled service occupations. Through its local, state, and national competitions, students demonstrate occupational and leadership skills.
All first-place winners will now move on to the SkillsUSA national conference in Atlanta, June 20-24.  
Following is a list of GTCC's top finishers in the SkillsUSA North Carolina state competition.
FIRST-PLACE FINISHERS
Trevor Pretory, auto service technician-high school
Chloe Mitchell, carpentry
Lauren Lewis, collision damage appraisal
Eduardo Rivera, collision repair technology
Brian Luna, criminal justice
Chauncee Garrett, culinary arts
Aiden Tobin, commercial baking-high school
Elizabeth Silva-Colon, commercial baking
Madison Gore, restaurant service
Kara Camp, dental assisting
Tucker Messinger, diesel equipment-high school
Darla Smith, EMS
Jennifer Montalvo, EMS
Rose Chafee, First Aid/CPR
Jesus Gonzalez-Peneda, major appliance repair
Mary Medlin, HVACR-high school
Adam Hall, plumbing
SECOND-PLACE FINISHERS
Christopher Harn, carpentry
Jonathan Bennett, CNC technician
Antonio Cosby, collision damage appraisal
Xavier Hill, criminal justice
Claudio Pandolfi, commercial baking
Damien Boone, diesel
Brenna Steger, First Aid/CPR
Aiden McNeill, HVACR
Martina Lee, plumbing
THIRD-PLACE FINISHERS
Austin Osborne, CNC technician
Drake Booth, auto refinishing technology
Macy Daly, criminal justice
Wyatt Stauffer, diesel equipment
Michael Bullard, HVACR
FOURTH-PLACE FINISHERS
Jennifer Lane, advertising design
Ali Williamson, auto service technology
Rolando Mendez, auto refinishing technology
Diana Arreguin, criminal justice
Jaiya Gomes, criminal justice-high school
Jamel Lindsey, HVACR
FIFTH-PLACE FINISHERS
Daniel Miller, criminal justice
Tenana Ingram, HVACR
About Guilford Technical Community College: Guilford Technical Community College is the fourth largest of 58 institutions in the North Carolina Community College System. GTCC serves more than 27,000 students annually from five campuses and a Small Business Center. For more information, visit gtcc.edu, Facebook, Twitter, Instagram and LinkedIn.
Back to All Articles