Guilford Technical Community College names Jeremy Bennett associate vice president of instruction
Published on: July 27, 2022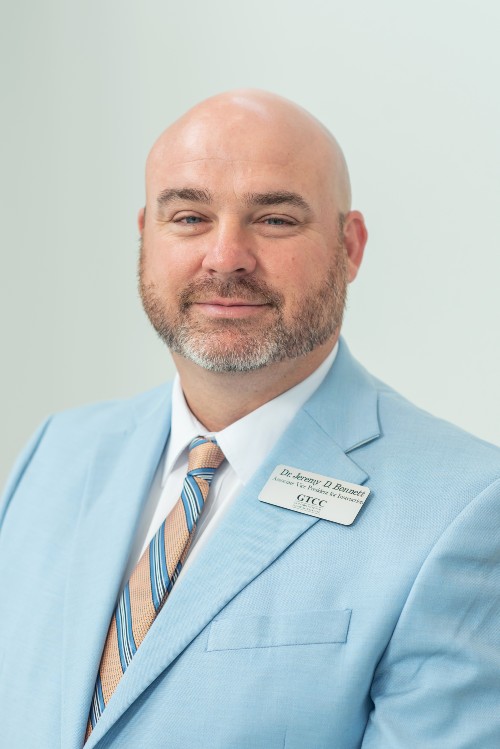 Jeremy Bennett, D.P.A., has been named GTCC's associate vice president of instruction.
JAMESTOWN, N.C. (July 27, 2022) – Jeremy Bennett, D.P.A., a community college graduate with more than two decades of local, state, and higher education experience focused on access, learning, and success, has been named Guilford Technical Community College's associate vice president of instruction.
For the past five years, Bennett has served as the academic dean for human services and public safety at GTCC.
"GTCC was fortunate to hire Dr. Bennett five years ago and in that time his leadership has made a significant, positive impact on the instructional division he served. He is passionate about the success of our students and dedicated to the mission of GTCC. I look forward to working with him in this new and expanded role," said Beth Pitonzo, Ph.D., senior vice president of instruction.
Prior to coming to GTCC, Bennett served as the chair and program director for public safety and personal services at Southern Crescent Technical College in Griffin, Ga. He has been in full-time and part-time faculty positions for more than 12 years.
"Guilford Technical Community College is nationally recognized as an innovative leader for its excellence among community colleges, and I am honored and humbled to be selected to serve as the next associate vice president of instruction," Bennett said. "GTCC's faculty and staff care deeply about students and the impact of the college on the community. I am excited about a promising future and look forward to working with the amazing and talented people to help our students to achieve their goals."
A first-generation college student, Bennett earned an Associate of Applied Science in criminal justice from Griffin Technical College before receiving a Bachelor of Science in criminal justice and a Master of Public Administration from Columbus State University. He earned a Doctor of Public Administration from Capella University in Minneapolis.
Bennett currently serves as an academic evaluator with the Southern Association of Colleges and Schools Commission on Colleges.
In his new position Bennett will collaborate with the senior vice president of instruction to provide overarching leadership and direction to core instructional functions and to the development, delivery and support of all instructional areas. This position directly supervises and provides guidance to the Center of Academic Engagement, Learning Resource Center, auditing, eLearning, and instructional support services/special projects in support of GTCC's strategic plan and objectives.
Back to All Articles