GTCC students, faculty, and staff return for fall semester
Published on: August 15, 2022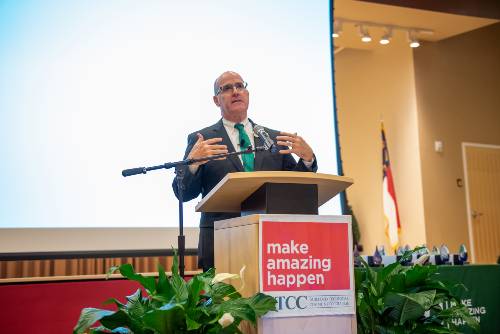 GTCC President Anthony Clarke, Ph.D., speaking at the 2022 Celebration of Excellence.
While Guilford Technical Community College students were dashing about preparing for the first day of classes, the college's faculty and staff met to open the new semester.
The college hosted two events for faculty and staff leading up to the start of classes, one to honor outstanding achievement and the second for professional development.
Entering on the Campus Police Department's T3 patroller, a Segway-like personal transporter, GTCC President Anthony Clarke kicked off the Celebration of Excellence at the Conference Center on the Cameron Campus. As its name would indicate, it was a morning of celebrating the college's successes from departments to funding to faculty and staff.
Clarke spoke on budgetary items, survey results and the college's enrollment figures; Berri Cross, director of student life, gave an overview of the new Titan Trail, a co-curricular program designed to get staff and students more involved on campus; and alumni E.J. Coleman and second-year student and college ambassador Daniela Campbell shared their praise for the college's staff.
Amanda Fields, the chair of the English department shared the campus-wide summer reading project, "The Carolina Table," a book of short stories based in North Carolina with topics ranging from Crisco to the Super G Mart in Greensboro.
Eight faculty and staff members were presented the President's Award for Outstanding Service which acknowledges and expresses appreciation for regular and time-limited employees who make outstanding and innovative contributions during the year.
This year's President's Award winners were:
Maria Colozzi, senior executive assistant in the president's office for her reliable, professional and patient demeanor in dealing with others and maintaining office operations during change and turnover.
Teresa Goins, director of the conference center, for her ability to adapt to changing situations and to use downtime during the pandemic to make sure the center was in position to make a solid comeback when the pandemic subsided.
Randy Thompson, general maintenance supervisor, for his hard work and ability to ensure all maintenance projects across all campuses are running smoothly. Regardless of the timing or degree of difficulty, he attacks every project with diligence, passion and great pride in his work.
Zach Goldstein, English department, for his initiative and work with the GTCC Creative Writing Club to make sure the department's literary journey kept going during the pandemic by making it digital, and his work and creativity with transferring the campus newspaper, Titan Shout, to a digital format. Goldstein's work ethic, dedication and leadership were also praised.
Amy Schwartz, executive administrative assistant in operations and facilities, for her work as the lead administrative support person in setting up the college's COVID hotline and then handling the majority of the calls for more than a year. She also compiled data and created the college's weekly COVID management report.
Cynthia Graves, coordinator of personal and professional enrichment, for her work in organizing, planning and collaboration on two successful Workforce and Continuing Education (WCE) open houses. She also was the lead in organizing the rebranding process for WCE's marketing efforts and helped with the redesign of part of the division's website.
Nathan Stevens, technology coordinator in the Center for Academic Engagement, for devising ways to assure students had access and support for computers during the pandemic and for hard work in not only distributing new computers to students but also making sure they were set up properly.
Kimberly Hill, senior human resources specialist, for her dedication to and patience working with applicants needing help and her eagerness to work with others in the HR department. Last spring, she also ensured the HR department had a smooth transition back to the Medlin Center, helping to plan the move and setting up the new area.
Each year the GTCC Faculty Association selects three Excellence in Teaching Award winners from faculty members who have been nominated by their colleagues for all their efforts to improve success in the classroom.
The 2022 Excellence in Teaching Award winners are:
Rich Depolt, department chair for business, accounting and supply chain management
Deanna Watson, visual arts department
LaTia Hairston, program director for cosmetology
Other awards were presented during the event, including: 
Employee Service Awards
Gladys S. Sears Endowed Teaching Chair Award
Employee of the month recognition
The Celebration of Excellence also served as a benefit for Titan Link with $512 in cash, $115 in gift cards and over 900 pounds of food contributed by GTCC staff.
The faculty development day, held at the Koury Auditorium, was a combination of speakers and breakout sessions, focusing on topics from faculty mental health and wellness to technology and innovation to podcasting.
Jason Lynch, Ph.D, assistant professor of higher education in the Reich College of Education at Appalachian State University, was the keynote speaker, covering "trauma, stress and the community college" in his presentation.
Back to All Articles