Education Secretary Cardona calls GTCC 'the gold standard'
Published on: September 14, 2022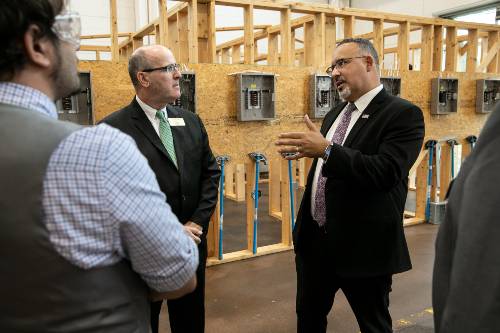 Secretary Miguel Cardona speaks with GTCC President Anthony Clarke while touring the electrical lab on the Greensboro campus.
U.S. Secretary of Education Miguel Cardona used a visit to Guilford Technical Community College Monday to learn about the college's many programs that offer pathways from high school to careers.
Cardona's stop at GTCC was part of his weeklong, multistate Road to Success Back to School Bus Tour which showcases the many ways school communities are helping students to recover and thrive.
Cardona spent more than two hours on GTCC's Greensboro campus visiting with instructors and three programs. During his tour, the former fourth-grade teacher also had an engaging 30-minute roundtable conversation with six GTCC students asking for their input on many issues surrounding community college education.
"We need to change the mindset, making this the norm, not the exception," Cardona said, referring to the hands-on teaching of trade skills he viewed during the tour.
"We don't present many options for high school kids. We do a disservice with the limited choices. Too much time passes before community college becomes a viable option."
Cardona toured and participated in hands-on activities in GTCC's mechatronics, HVAC and electrical labs.
"GTCC is the gold standard that we want to see in community colleges," said Cardona, whose first post-secondary education classes came at a community college.
"Here at GTCC, they connected with the high schools, the early colleges, the four-year colleges. This is one of the places that does it right and it's working."
Cardona closed out his visit with a roundtable discussion with six students from a variety of programs, majors and backgrounds. That group included:
Daniela Campbell, a former GTCC Career and College Promise student now in her second year as a college transfer student majoring in Spanish
Vasidki Conneh, a native of Ivory Coast in Africa who will graduate from the Manufacturing Technology program next spring then head to North Carolina A&T State University
Niyah Webb, a college transfer student with a double major in engineering and sciences
Jeshika Lamsal, a native of Nepal and a college transfer student who is majoring in philosophy and political science
Daniel Guevara, a fifth-year high school senior, who will graduate from GTCC with an Associate of Science degree and high school diploma in May
Mary Medlin, a high school senior who is dual enrolled at GTCC in the college's Air Conditioning Heating and Refrigeration Technology program
The students were as impressed by Cardona as he was with them.
"I told my parents I was speaking with the secretary of education," Lamsal told Cardona. "But you are the secretary of the future of America."
Cardona wrapped his conversation with students by saying, "I've got my homework now, making programs more accessible. I'm really motivated by our visit and excited to get started."
Back to All Articles