Entertainment technology students help stage Folk Festival, other large area events
Published on: September 7, 2022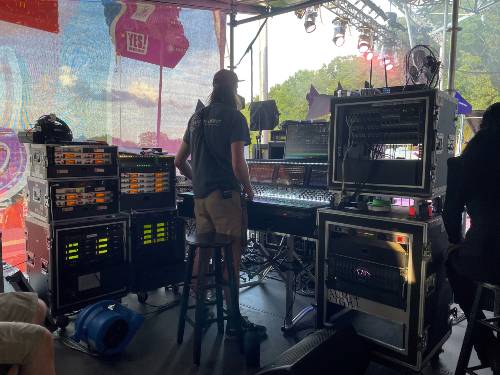 GTCC alum Stevie Klinefelter runs monitors recently at the John Coltrane Jazz Festival working for Audio & Light.
Many college students only dream of honing their skills on a big stage outside a classroom.
Students in Guilford Technical Community College's Entertainment Technology Program are sharpening their skills in the real world on a stages meant to entertain thousands of people.
This weekend more than a dozen GTCC entertainment technology students, alumni and faculty members will provide technical support for the performances at the North Carolina Folk Festival in Greensboro.
The folk festival is one of many live performances the entertainment technology students are involved in each year throughout the Triad.
"This is huge. This is the industry they are trying to go into," Liz May, an instructor in the entertainment technology program, said of the chance for students to have hands-on opportunities. "It's really great experience for them (the students) and they (the shows) need folks to fill those roles."
Mark Dillon, an instructor in the entertainment technology program, says students enrolled in the program are involved in more than 100 live events every year. Some are small productions while others are quite large.
"I had a student last semester who worked on Hamilton, Elton John and Paul McCartney. They will never get the experience of doing something like that anywhere else," said Dillon, referring to a production of the Broadway hit "Hamilton" at the Tanger Center for Performing Arts in Greensboro as well as concerts by music giants Elton John and Paul McCartney. "The students actually are working in the entertainment field. They are not just talking about doing it, they are doing it."
Dillon said students from the entertainment technology program have supported shows in the region with technical help since the program's inception more than 20 years ago.
May said the students serve in many roles. Some are assistant stage managers while others are stage technicians, helping transition stages from act-to-act or moving equipment in and out. Students with less real-life experience may shadow others with more experience to gain knowledge and confidence.
"The students get excited, but it's kind of a two-way street," May said. "We want them to get the experience, but we want them to represent us well, too."
May and Dillon are both involved in the North Carolina Folk Festival along with many of the other events their students support each year. May is a front-of-house sound engineer for a stage in the folk festival while Dillon is a stage announcer. He also is playing in a band which is performing. May also worked last weekend's John Coltrane Jazz Festival in High Point along with five alumni of the entertainment technology program.
In addition to hands-on experience, students gain valuable connections from working the shows.
"The personal interaction is such an important part of it. So much of this is networking," said Dillon, adding that a student's diligence and work ethic at one of these events could pay off with a call for a job interview down the road.
"This is mostly not glamorous; it's a lot of hard work, but that's actually the fun part of doing this."
Back to All Articles