Bank of America names Guilford Technical Community College as Neighborhood Champion in recognition of work to address barriers to success for under-represented students
Published on: December 14, 2022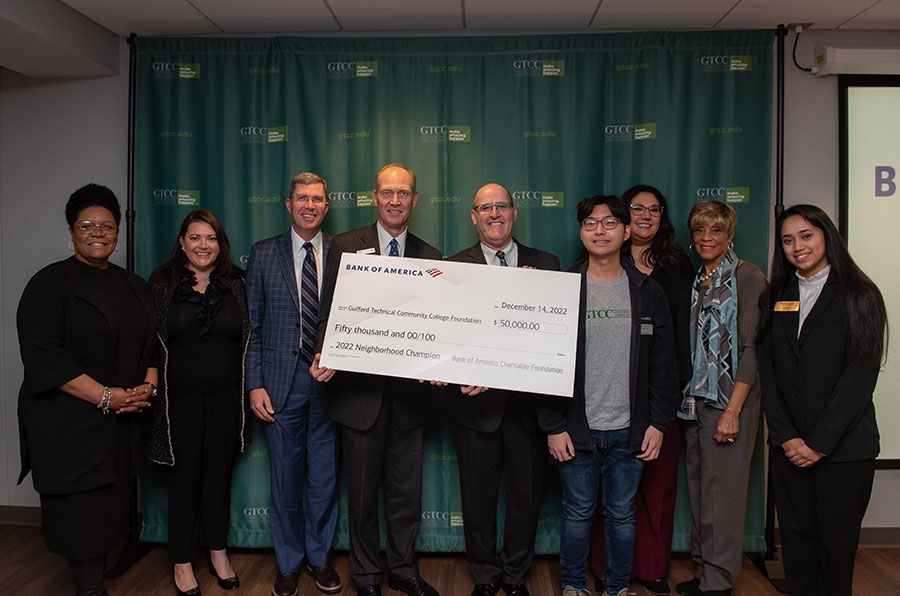 Sybil Newman (GTCC), Courtney Payne (BoA), Brent Christensen (GSO Chamber), Greg Cox (BoA), Anthony Clarke, Ph.D. (GTCC), Khoa Nguyen (GTCC), Jan Knox (GTCC), Treana A. Bowling Ed.D. (GTCC), Jeshika Lamsal (GTCC)
JAMESTOWN, N.C. (Dec. 14, 2022) – Guilford Technical Community College (GTCC) has been named the 2022 Bank of America Neighborhood Champion for its work in the Triad removing barriers to higher education while enhancing economic opportunity.
GTCC will receive $50,000 in grant support to help bolster the college's male minority mentoring initiative to support successful student outcomes in STEM industry programs. Additionally, the grant funds virtual leadership training for the college that focuses on topics like effective management, increasing financial sustainability and storytelling, specifically in the nonprofit sector. 
"The Triad continues to experience rapid economic growth and workforce expansion. Now more than ever, our residents must have access to programs and training to be properly positioned to land employment opportunities created by that growth and expansion," said Greg Cox, president, Bank of America Triad. "This support will enable Guilford Technical Community College to continue providing financial aid and educational pathways to secure in demand emerging roles for their most vulnerable student populations."
GTCC seeks to provide inclusive educational outcomes focused on helping students of all backgrounds and socio-economic status succeed through innovative education, training, and partnerships.
The grant funding will also help expand and support initiatives that address barriers to academic success for under-represented students, with emphasis on mentoring male minorities who wish to work in the STEM industry in the Triad region. These initiatives enable GTCC to strategically support students both in and out of the classroom as they work to develop new skill sets, seek job growth and opportunity, and enhance community engagement through economic growth and development.
"We're honored that Bank of America sees the value of GTCC and its role in the Triad to educate and train skilled workers for well-paying, in-demand jobs right here in Guilford County," said Anthony Clarke, Ph.D. president of GTCC. "Every day, GTCC is focused on changing outcomes. We meet students where they are in life and help them reach their educational and career goals. We promote workforce expansion and development in the Triad by providing skilled workers for many industries."
In the Triad, four nonprofits have been selected as Neighborhood Champions since 2019, with the bank investing $200,000 into these local organizations.
The invitation-only program is highly competitive, and organizations are selected by a committee comprised of community leaders and past Neighborhood Champion honorees. 
The Neighborhood Champions program is an extension of the bank's signature philanthropic initiative, Neighborhood Builders®, the largest corporate philanthropic investment in nonprofit leadership in the country. Through 2021, Bank of America has invested $6.3 million in 126 organizations within 42 communities through the Neighborhood Champions program.
Bank of America Environmental, Social and Governance
At Bank of America (NYSE: BAC), we're guided by a common purpose to help make financial lives better, through the power of every connection. We're delivering on this through responsible growth with a focus on our environmental, social and governance (ESG) leadership. ESG is embedded across our eight lines of business and reflects how we help fuel the global economy, build trust and credibility, and represent a company that people want to work for, invest in and do business with. It's demonstrated in the inclusive and supportive workplace we create for our employees, the responsible products and services we offer our clients, and the impact we make around the world in helping local economies thrive. An important part of this work is forming strong partnerships with nonprofits and advocacy groups, such as community, consumer and environmental organizations, to bring together our collective networks and expertise to achieve greater impact. Learn more at about.bankofamerica.com, and connect with us on Twitter (@BofA_News).
For more Bank of America news, including dividend announcements and other important information, register for email news alerts.
Back to All Articles