GTCC launches esports program to build leadership, communication skills
Published on: December 6, 2022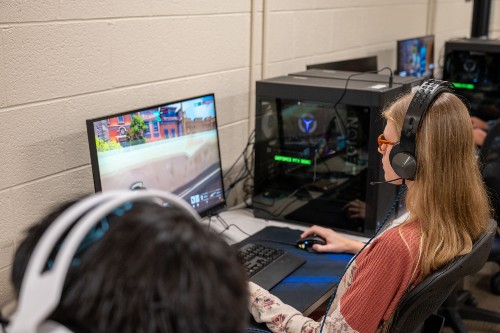 GTCC student Natalie Buck competes on the Overwatch 2 team.
JAMESTOWN, N.C. (Dec. 6, 2022) – There's much more to Guilford Technical Community College's new esports team than fun and games.
While team members do have fun in the online competition, the purpose of the college's first competitive esports venture runs much deeper, focusing on increasing leadership and communication skills along with other abilities that will be beneficial in work and life.
"Esports athletes develop skills focused on teamwork, personal development, interpersonal communications and problem solving under strenuous conditions," coach Tu Nguyen said. "These are highly sought-after skills in today's job market, coinciding with our students' goals of technical degrees to begin their careers or transfer to universities to further studies and continue competition."
Nguyen said that all team-based games require intense leadership and communication skills. The matches require millisecond reaction times for instant coordination between team members. The many hours of practice and the official competitions help improve not only players' teamwork, but also leadership skills.
He also said each athlete spends four to five hours a week in preparing and practicing for matches, critiquing strategies, battle plans, communication plans and analyzing the next opponent's strategy.
GTCC's esports team competes in the National Junior College Athletic Association Esports (NJCAAE), which has 80 member colleges and over 1,100 student athletes competing.
"This is an opportunity to further engage our students with another sport that is growing in popularity and will offer a strong connection to the college for students both as an intercollegiate and club sport," Nguyen said.
Esports is online, competitive video gaming played through computers and electronic consoles, which allows interactive, virtual reality, multiple-player video games. The sport has grown to a more than $1 billion industry.
Back to All Articles